To paraphrase Salt-n-Pepa: here we go, here we go, here we go again! Tonight's show starts with the six previous castoffs doing Pink's "So What?" It's cheesy, weird, and makes me highly uncomfortable. Naima does a David Lee Roth high kick, then grinds on Ashthon. Everyone's off key and to make matters worse, Paul comes out looking like he just didn't leave after he was eliminated last week; he appeared disheveled, a little shellshocked, and I think in the same suit. I couldn't even hear him half the time with the off-key wailers trying to prove their point with lyrics like, "So what, I'm still a rock star, I got my rock moves, I don't need you…." Yeah, well we didn't need you and that's why you were voted off!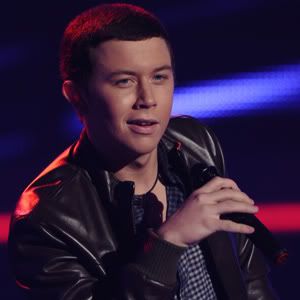 Scotty McCreery does "Swingin'" by LeAnn Rimes, (originally done in the '80s by the wonderful John Anderson). I don't get this song choice at all! Jimmy said he is doing it so non-country lovers will vote for him… huh? This is a country song! I don't love this when LeAnn does it and I definitely don't love it when Scotty does it, either. I mean, it was different and certainly not what anyone expected but, it wasn't spectacular and definitely not the rock vibe Jimmy said we'd get from it. Steven Tyler said that was Scotty's version of The Rolling Stones, JLo says this close to the end he needs to elevate his game and Randy agrees saying it was safe and somewhat boring. His face got bright red during the harsher than usual critique but he handled it with goofy grace saying he had fun with it and he understands what they're saying. Then he does a weird bobble head move- Scotty, it's in your best interest not to start annoying me!
James Durbin has decided to sing "Uprising" by Muse and this is a brilliant song choice because it will allow us to imagine if we can hear that being on the radio right now or not. He had the performance start with drummers marching out and playing- it was very theatrical and over the top, which is exactly what we expect from him now. James was wearing some weird post-apocalyptic, leather soldier outfit, complete with a cane or scepter of some sort. He hit his usual out of this world notes and elevated this song to a different level- not necessarily better but he took a fairly new song and made it more his own. JLo said it was the most theatrical performance of the night, Randy said even though we're only two in, it's probably going to be the best of the night, and Steven says to stay out of his closet and calls his look "Mad Max meets Storm Troopers on Melrose" and that it is "expensive to look this cheap."
Haley Reinhart tackles Adele's "Rolling In The Deep" and I love this song so much right now so I'm very skeptical about Haley doing it and all I can think is she's going to growl it to death. Believe it or not, it was my favorite performance from her and I almost loved it. She has a better voice than I have given her credit for and this sounds like the direction I could see her going for a debut album for sure. Randy loved the song choice and thought she could be this kind of artist, JLo said she "brought a little bit of Haley to it" but also said it's risky doing a #1 song, and a song so beloved and well known because you have to do it as well or better and there were a "few moments of that" in this performance.
Jacob Lusk has cost me my life. I promised a friend if Jacob did Luther tonight I was hurling my body from a bridge, any bridge. And since he performed Luther Vandross's "Dance With My Father," he's lucky I live in Reno and we have a shortage of bridges. Jacob commits this blasphemous act on Luther's actual birthday, no less. He did get me a tad teary when he explained he lost his dad at 12, but the first thing I thought was, "Oh, great, if he can cry during 'Man In The Mirror,' he will need to be carried off the stage after this song." He did what he always does: oversing a song fairly well. It was too dramatic even though he was sitting down and it was dialed back from his norm. Steven called him Luther Lusk and said his daddy is "up there watching you right now." JLo says it's hard to perform while you're also very emotional over the song and that "emotionally it was a great performance," which means it sounded like crap. Randy agrees and would like to see Jacob go nuts and hit the ceiling again because he's bored. SO ARE WE!
Casey Abrams performs "Harder To Breathe" by Maroon 5. I always picked Maroon 5 songs for Paul McDonald, never imagining Casey's voice would work on any of their tunes. I might have been wrong. Casey played guitar and sang the hell out of this. He wants to remind us that he was once the guy to beat in this competition and he does, making me ask, "Scotty who?" His performance was inauthentic and a bit overdone but he's Casey and that's what he does. He sounded great and then fake aggressively stalked up to judge's table and sang in JLo's face and kissed her cheek. Sorry kid, ya lost me. JLo said "Casey's got soft lips!" She loved his performance and thought he brought all his Casey-isms out tonight. Randy said Casey surprises us everytime, and he was concerned about the song choice because of the Nirvana debacle. Steven says Casey has pissed off millions of people because he's so f*cking good.
Stefano Langone is next and the placement amuses me; I guess they had to stick him somewhere and what better way to expose him as weak than to have him follow Casey? He's doing "Closer" by Ne-Yo and Jimmy says don't whine or beg, be sexy. They had him dressed weirdly; I think I saw lowered suspenders, rolled up sleeves on a black t-shirt, and faded black jeans tucked into his sneaks. He looked like he was on his way to rumble with some Socs. I will say this: Stefano thought he was hot shit tonight and was pretty sure he slayed it. It was bouncy, cagey, and just all wrong. Randy said he expected jerky, bad karaoke but he smoothed it out. He said Stefano coaxed the song but I disagee; he rushed and bounced and it was weird. Steven said he was "all up in it" and was happy for some dance moves. JLo says she speaks for the girls in the audience and he had his swag going on.
Lauren Alaina sings a song I adore: "Born To Fly" by Sara Evans. Jimmy says she needs to hurry and get over nerves and fear of failure because she's as good of a singer as anyone in this competition but she shrinks and holds back on stage. She sounds okay and does a great imitation of a confident, flirty country singer but it wasn't sincere or believable at all. Steven tells her she's great naturally and he'd love to hear her do Alison Krauss, Shania, or Faith Hill for him next time. JLo says she needs to play with her voice and to close herself up somewhere and practice with big, crazy notes (this might have been the first bit of actual advice this season). Randy says she has glimpses of great but tonight she was good. I say she's got the pipes but, lacking about two more years of crucial maturity to be the next American Idol.
The show was actually pretty good and I thank Stefano for providing me with a much needed laugh. I can always count on you, 'Fano! The bottom three will be Jacob, Stefano and maybe in a shocking move Lauren or Scotty, with Jacob singing his swan song. What did you think? Who will garner the fewest votes and be leaving us?