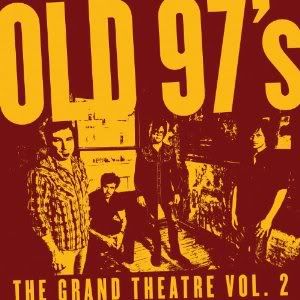 Hard to believe the Old 97s are releasing their 9th studio album next week. The follow up to 2010's The Grande Theatre, Volume One, we are given our first sneak peak at The Grande Theatre, Volume Two this week thanks to the fine folks at KTX 91.7.
Approaching 20 years as a band, the Dallas, TX quartet continue to bring their unique country-punk-swing sound to the masses. Fueled by singer-songwriter Rhett Miller's sweet little wail of a voice and story-telling lyrics, TGTV2 feels familiar to long term 97s fans. Matching TGTV1 in general sonic sound and landscape, TGTV2 continues with Rhett's characters (he is, at his best, a profound creator of characters and stories).
The album's single, "Perfume" (which many 97s fans got to hear live in the tour supporting TGTV1), is the story of a guy presumably locked inside his home. Is this guy the same guy staring at girls in the dance class - or charmingly questioning "what's so great about the barrier reef?"
With a release date of July 5th, TGTV2 is supposedly available in a two record vinyl addition that's likely to be a must own for Rhett Miller junkies like myself.
I will say with several listens in TGTV2 doesn't hit you across the face with hooky songs like 1999's Fight Songs does (honestly I'm not sure how a record can reckon with that one…ever). But I will also say I wasn't in love with TGTV1 until I really had time to absorb it. Now "The Magician" and "Please Hold on While the Train Is Moving" are two of my favorite songs. I can't wait to own TGTV2 and to have time to fully absorb it.
In typical 97s fashion, some songs are older in spirit than others. "Visiting Hours" is a song we've heard Rhett perform solo several times (most recently in the 2001 show live at the Fez released on the 97s website). But the full band brings a closure to the song - a sort of finality.
All in all one listen in? More 97's please!