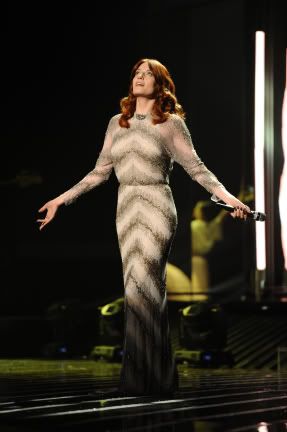 "The British are coming! The British are coming!" Two sensations that originated across the Atlantic have made their assault on American shores and I'm ready to be conquered by at least one of them.
The first season of the US edition of Simon Cowell's X Factor will finish this week. British sensation Florence + The Machine performed on last week's 'Results Night,' as she looks to capitalize on the success of her debut and reach a larger US audience.
I've only watched 10 minutes of X Factor this season but based on what I saw and heard on this video of Florence performing "Spectrum" from her new album Ceremonials and the great coverage Heather has provided throughout the season, I am confident saying this is the best five minutes of the season.
That bold proclamation has nothing to do with my having become borderline obsessed with Florence + The Machine this past year, except that it does. Fine. You win. Yes, I'm a Flo fan but this is a really good performance and it's among the many excellent songs onCeremonials.
I'm not a big fan of choreography numbers and would have been fine watching Florence perform with her band rather than with a all these dancers but the singer and song are still at the center of the spectacle and they more than held my attention.
The X Factor wraps Season 1 this week and BlindedBySound will have all the coverage you need. Heather will predict the winner among the three finalists: Chris Rene, Josh Krajcik, Melanie Amaro. She'll review their final performances and you can read all about the winner when the results are announced. While we wait, check out this performance from Florence + The Machine and my review of Ceremonials.