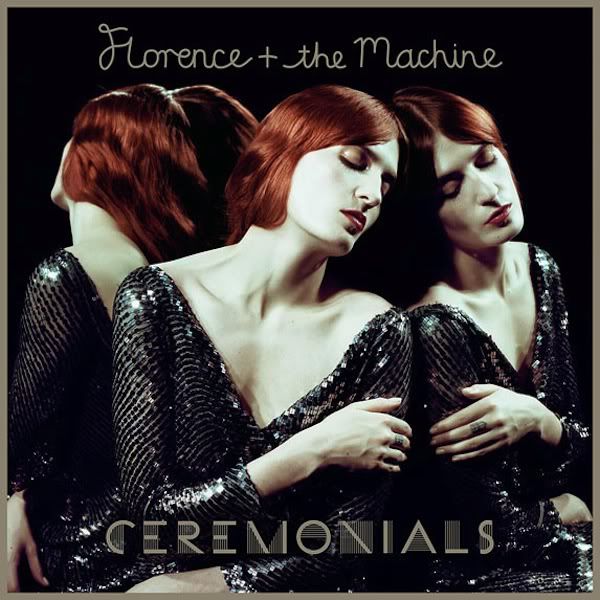 Rumors have been heating up for weeks about the fate of Florence And The Machine's much-anticipated follow-up to their smash debut Lungs and the band have now confirmed the tracklisting, artwork, and a release date of Oct. 31 in the UK (US release date still TBD).
The rumors really kicked into high gear when "What The Water Gave Me" was released on iTunes as a taste of what was to come and a teaser to tide fans over. "Water" made the final cut for the record and "Shake It Out" has been tabbed as the lead single for the record.
Producer Paul Epworth helmed the sessions for the disc at London's famed Abbey Road Studios and via Twitter has touted the record as heavier than Lungs and also declares there are no weak tracks on the album.
I'm a little surprised "Strangeness & Charm" got relegated to the deluxe edition, having been played live extensively. They played it in Nashville during their opening set for U2 and I quite loved it. There's no question I'm going deluxe for this. I was late to the Florence party but you can bet I'll have this pre-ordered the second it goes live stateside.
Ceremonials will be released in standard and deluxe editions and we have the complete tracklisting:
Standard
1. Only If For A Night
2. Shake It Out
3. What The Water Gave Me
4. Never Let Me Go
5. Breaking Down
6. Lover To Lover
7. No Light, No Light
8. Seven Devils
9. Heartlines
10. Spectrum
11. All This And Heaven Too
12. Leave My Body
*What The Water Gave Me (Video)
Deluxe
1. Only If For A Night
2. Shake It Out
3. What The Water Gave Me
4. Never Let Me Go
5. Breaking Down
6. Lover To Lover
7. No Light, No Light
8. Seven Devils
9. Heartlines
10. Spectrum
11. All This And Heaven Too
12. Leave My Body
*What The Water Gave Me (Video)
1. Remain Nameless
2. Strangeness & Charm
3. Bedroom Hymns
4. What The Water Gave Me (demo)
5. Landscape (demo)
6. Heartlines (acoustic)
7. Shake It Out (acoustic)