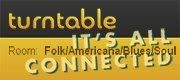 Turntable.fm has claimed hours of my life since I was introduced to it. It brings the audio component to what BlindedBySound is all about: listening to and talking about music. It was only natural I'd fall in love with a site like that and I have, but it goes deeper.
I considered founding BlindedBySound as a site devoted wholly to the blues and roots music but opted instead for a big umbrella apprach and I'm proud of the range of music we've reviewed and discussed on BlindedBySound since our January 1, 2011 launch and look forward to a day when we have even more writers sharing their knowledge and love of even more genres and subgenres. I believe the world needs a place where music fans of all stripes can come together, but there is something to be said for specialization and a single rallying point.
In the time I've spent on Turntable.fm, I've found a rallying point for a brand of music I'm passionate about, a brand that goes underexposed in the larger musical universe. That room specializes in roots music; blues, Americana, folk, soul, and the places they all connect. In fact, that's the name of the room at Turntable.fm -- Folk/Americana/Blues/Soul - It's All Connected -- and it has its own Facebook page as well.
It's always been a struggle for genres outside the mainstream to connect with fans and potential fans. I began my blues exploration without anyone to guide me. I scoured the internet and struggled to find a place to learn and discover the past and present of the genre. My self-guided tour took me to some great, great places but there are still artists and sub-genres of blues and roots music to which I've not been exposed because, to be cynical and honest about it, there's just no money in it. Turntable.fm and the Connected room would have been incredible at the beginning of my journey. I'm finding it just as valuable and fun as I work to fill in the gaps as I move both forward and back.
I've discovered artists like The Spring Standards (and bought up their discography) and Mudlow while turning listeners on to Nick Moss, Samantha Fish, and Kilborn Alley Blues Band. Fellow BBS writer Heather has joined me in the room and spun some great tunes from her collection and learned a few new names as well. I've played, listened, learned, discussed, and shared. It may not be the place for all things blues/roots but for a genre or group of genres that lacks a centralized place for fans to congregate it's more than a start, it's a connection.