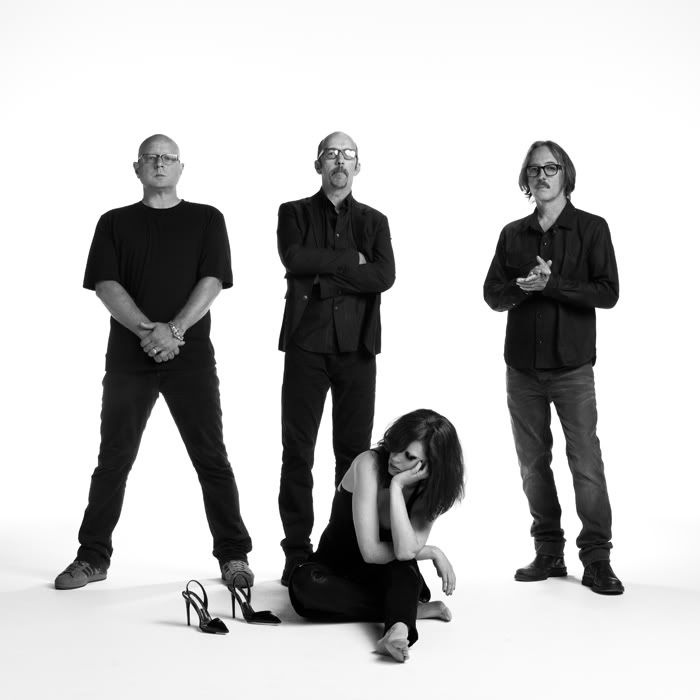 Garbage is ramping up for a spring release of their as-yet titled fifth album, their first new record in seven years by setting up shop with their own label, Stunvolume Records.
It's a time of new beginnings for the quartet, still comprised of vocalist extraordinaire Shirley Manson, drummer Butch Vig, and guitarists Duke Erikson and Steve Marker. They're recording for the first time outside of the Madison, WI area and are putting finishing touches on this new set in Los Angeles. The band acted as their own producer per the norm and it's being mixed by Vig and Billy Bush. Some reports suggest the album has been sent off for mastering, meaning we're very, very close to new music.
As for plans to release the record on their own, the reasons were many. In a release to fans, the band said "We have had our fill of greedy corporate interest. We don't like how they do business. This time we are going to do it our way." They've secured international distribution so finding it shouldn't be an issue.
As for the record itself, we can expect a Garbage record that sounds like Garbage. Vig has talked about the special identity and sound the band crafted over the years and making a record that reflects who they are. The release announcing Stunvolume Records also includes the following mission statement, of sorts, "Our intention is to make a great record that we have written, recorded and produced as a band. We intend to tell the truth. We are one. Even though it's hard."
Garbage has also announced a handful of dates to support the upcoming record and have told fans via their Facebook page there will be more dates throughout the year.
I can't begin to tell you how happy this makes me. Garbage remains among my favorite bands and I'm eager to hear what they've come up with this time out and just as importantly see them in concert for the first time. They've made amazing music that stands up and their self-titled debut is on the short list of greatest debut records ever. That album is so stacked and when you consider the smash hit "#1 Crush" could have been included on that record, it's even more astonishing! The band has admitted recording and writing hasn't always been easy for them but they manage to produce a lot of great music when they get things going.
Some day, the powers that be will realize how many of us devoted fans there are who will gladly pay for a proper B-sides box set. So many bands and records of far less import have released such compilations, whether on remastered deluxe editions of prior records or as standalone fare. No wonder Garbage is going it alone this time. The record industry complains about not being able to sell records and yet won't sell something fans have wanted for ages. Great business model, clowns.
2012 is going to be big year for Garbage fans. Get ready and stay tuned; we will be watching, waiting, and listening.