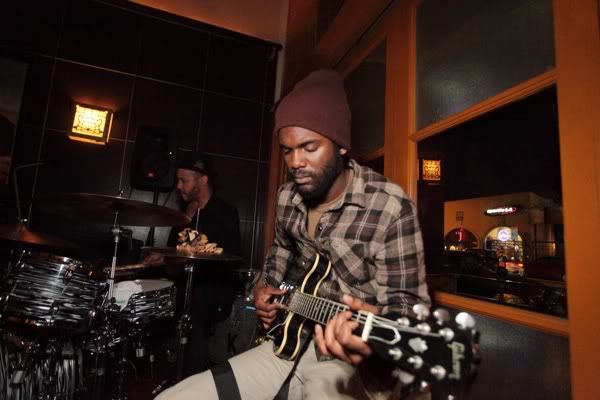 Welcome to the third and final installment of this week's series of live performances by Gary Clark Jr. for RollingStone.com. We already watched/heard him perform "When My Train Pulls In" and "Things Are Changing," both from the Bright Lights EP. Today, we get to the title track.
I saved this one for last not just because RS sequenced it this way but because this is the first change we get to hear a really different version of one of Clark's songs. The first two songs sound similar to the EP because they were filmed much the way they were recorded- live, solo. "Bright Lights" is a studio cut on the EP, and Gary rocks hard with a full band. He unleashes blistering squalls of face-melting guitar and it's a fantastic song. The EP version rocks harder than the version on his S/T EP, and it's much different in this video with Gary accompanying himself on electric guitar.
I prefer the full band, blues-rock version from the EP but I love hearing a song like that stripped down to its basic elements and what we discover is "Bright Lights" is a great song and Clark is a dynamic talent who can make it work in any number of settings. That's what makes his upcoming album so intriguing. There's nothing wrong with artists who master a single instrument or vocal style, with concentrating on a particular style or approach but real versatility is a rare and special characteristic. Many capably dabble, few excel. Clark has shown signs of being the latter. I think I'm right, I hope I'm right, and I can't wait to find out with the release of a full-length record next year.