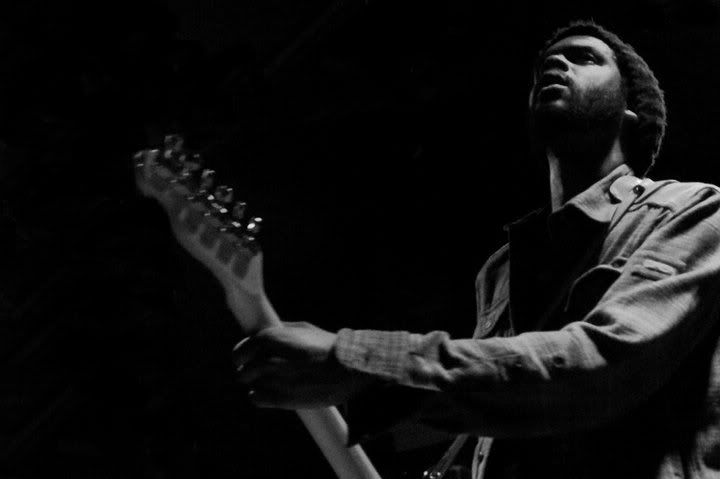 This is the second of three songs Gary Clark Jr. performed for RollingStone. We posted "When My Train Pulls In" earlier this week and we'll post the final performance tomorrow, sending us into the weekend on a big high note!
"Things Are Changing" first surfaced on Gary Clark Jr's self-titled EP (now tragically out of print and so out of circulation you can't even find an overpriced copy on eBay!) and a solo, live performance of the song was included on the Bright Lights EP.
Clark performed "Changing" as part of his three-song set for RollingStone, accompanying himself on electric guitar. It's a song and performance that showcases the versatility of this blues slinger, putting his singer/songwriter side on display with a heavy R&B accent.
He begins with some sweet, simple fingerpicking for the intro and then -- this is going to seem out of left field and perhaps garner some strange looks -- but there's something in the way he's playing his electric guitar reminiscent of the way Babyface played his acoustic on "When Can I See You Again?", a song from more years ago than I want to admit. It was a hit back then. MTV played videos. DON'T JUDGE ME!
Gary's vocal delivery is pure silk, bathing his words with beautiful light as he considers the direction of a relationship.
The more I get to listen to him and hear the different dimensions of his musical ability, the more excited I get for a full-length record. I want to hear him try to synthesize his different ideas and talents. A 4-song EP just isn't long enough! So, let's tide ourselves over by watching and listening to Gary play "Things Are Changing" from his S/T and Bright Lights EPs, live for RollingStone.