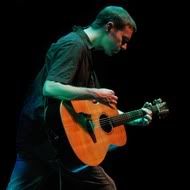 I've mentioned before that I love what technology has done for music fans - and tonight that affection found a whole new corner of cyberspace to love. Thanks to Stageit.com I was able to see Glen Phillips live - from his couch to my couch.
Not familiar with the Stageit technology, I was lucky enough to learn about this gem at nearly the last minute. For a mere $5 I was able to purchase 50 notes (each note is worth $.10) and the Glen show was a mere 30 notes (that's 3 bucks people). I logged in a few minutes before the 9pm start to see a flurry of chats from other Glen fans in the "audience." That's right - this venue is virtual - with no line for the restroom and the best beer prices in town. From the comfort of my own couch (with the benefit of my pug at my feet) I prepared to see and hear one of my favorite voices ever.
And promptly at 9pm there he was - with a giant smile on his face and his guitar. Laughing as he read chat interactions, Glen treated us to some Glen/Toad favorites, occasionally flubbing up the lyrics enough to remind us that he's at home on a Sunday night just casually playing his tunes for a few hundred friends.
Attending shows without ticket surcharges, smokey clubs, over crowded bars, and loud show-talkers? This technology just might be all I need to become a full fledged homebody. I highly recommend that more artists explore this opportunity to connect with fans via the living rom - and if you notice an artist you like appearing on Stageit definitely check it out. It's everything we love about music and those who make it for us - only available to you while you're in your PJs.
And Glen fans - he's already talking about another show next Sunday if you're interested.
Glen Stageit set - October 30, 2011 (40 minute set)
Easier
It's Over Now
Windmills
Finally Fading
Drive By
All I Want
Brother
Goldenage
Still Carrying You
Crowing