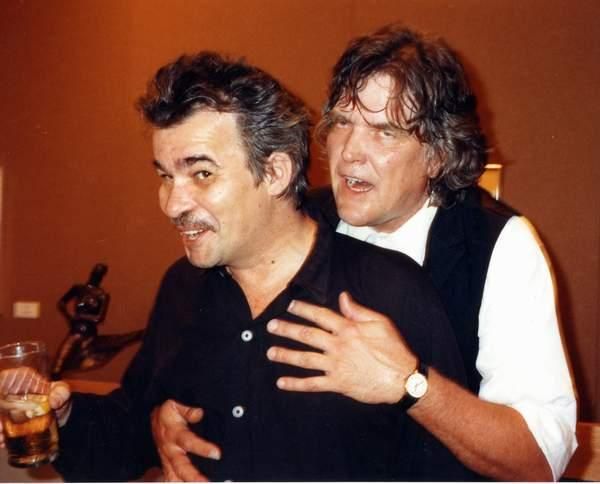 I fear that after we lose Guy Clark, John Prine and a few more like Ramblin' Jack, Jerry Jeff Walker, the Flatlanders (Joe Ely, Butch Hancock and Jimmie Dale Gilmore) and Billy Joe Shaver, there will be no more down and dirty troubadours to hang their hats on their hearts. Sure, there are excellent, next-generation stand-ins Steve Earle (too political), Lyle Lovett (too commercial), Todd Snider (too unpredictable) and that Iron & Wine Guy (way too sensitive). There is just something about the original guys from the seventies straight through to today that present their songs with just the right amount of love, irony and humor.
John Prine was the first of these ramblin' men who struck me to my core while still in high school. His first LP came out when he was just 25, a mere 7 years older than I was but with the sensibility of a wizened old man. How could someone so young write "Angel From Montgomery," "Hello In There" and "Donald & Lydia" and have them all be on a debut along with seven more soon to be classics?
At 25?
A couple of years later, I discovered Guy Clark by way of Jerry Jeff Walker, ("LA Freeway") and the Lost Gonzo Band, (Desperadoes Waiting For the Train"). For the next decade, he was just a name on song credits but when I heard his own material circa 1990, I became hooked. I had the pleasure of seeing him perform at the legendary LA club, The Troubadour, with Lyle Lovett as a special guest. Lyle surprised Guy by playing an obscure song, "Step Inside This House," that Guy did not recall composing. I obsessed on finding this song until Lyle recorded his covers album several years later. I liked the studio version but there was something magic about hearing Lyle perform it with Guy sitting next to him, quietly smoking, listening with his eyes closed and full of admiration for his young protégé.
I had my own Guy Clark experience a few years down the line. A friend had written a great song about three generations of soldiers and asked if I could help get Guy and another of my heroes, Graham Parker, to sing the grandfather and father verses. Both said yes right away after hearing the track with no thought or mention of pay. We chose to record the overdubs in Nashville due to the proximity for Guy. Graham was fine with flying down from his Catskill home – to get away from the snow - so he thought. I picked him up at the airport while a blinding freak snowstorm attacked middle TN. Graham had to laugh at his luck. We made it to the studio around nine that night and sat for a while trading accordion jokes while waiting for Guy. He was late but the snow was still coming down and I was afraid they would close I-40. Somehow, I just knew Guy would be there come hell or snow banks. We looked out the studio window to see a beat up old pickup truck sliding from the road into the parking lot – literally to a stop about three inches from the entrance to the studio.
Guy hops out of the truck and says, "Howdy fellers, this must be the place!" He had had a bit of liquid enhancement to make the drive and session more enjoyable. We wasted no time due to the chance of a major Nashville shutdown. The two grand artists had no idea who each other were but it did not matter. Guy and Graham joined together in the studio, listened to the track once, rehearsed once and then, amazingly, nailed it on the first pass. When an artist is a pro like these two veteran troubadours, no more than a couple of takes are required to feel it and find the right place to be. We listened to the playback and both artists, the engineers and me were all in agreement – it could not be any better than what we had now. It was perfect.
Guy says his goodbyes and seems surprised but grateful when I handed him an envelope with 500.00 in cash for his contribution to a great track. He jumped into his truck and took off slipping and sliding like the trooper he is – I was sure he had seen much worse weather in his days on the road as the embodiment of Jeff Bridges character in "Crazy Heart." Graham and I still laugh about the grand night in weather-beaten Tennessee and the old pro who got the job done with few words and a powerful, grizzled voice.
We have already lost Townes Van Zandt and Levon Helm so I dread the day I open up the paper or my laptop and learn that any of the ones who are left to carry on are no longer singing in the coffee houses and honky tonks. Let us enjoy and celebrate them while we can.