After recording his debut album for the Beatles' Apple Records in 1968, James Taylor returned to the States with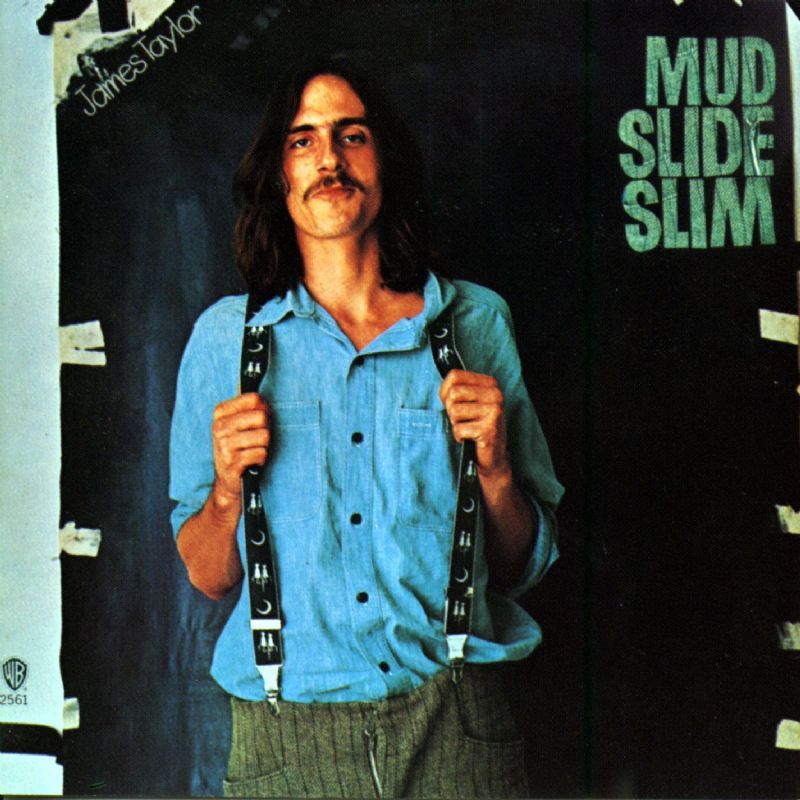 more experience under his belt, but no measurable success. However, this time he had an important ally—Peter Asher, Apple's former A&R head who left his job to become Taylor's manager and producer. Their next effort, Sweet Baby James, propelled Taylor to the pop charts with the hit "Fire and Rain" and the title track, as well as concert favorites "Country Road" and "Steamroller." The album also landed him the cover of Time magazine, the issue proclaiming him as the leader of the 1971 singer/songwriter movement. How could Taylor possibly live up to the hype? He followed the LP later that year with Mud Slide Slim and the Blue Horizon, a deeply personal work that also demonstrates how his music incorporates genres like country and soul. Audio Fidelity has just issued a remastered, 24K gold edition of the classic album, which thrusts Taylor's accomplished guitar picking to the forefront.
Mud Slide Slim begins on a positive note with "Love Has Brought Me Around," which faintly recalls equally optimistic tracks on James Taylor such as "Sunshine Sunshine" and "Brighten Your Night with My Day." The stellar backing band features Carole King on piano, Joni Mitchell on backing vocals, Danny "Kootch" Kortchmar on guitar and percussion, and the great Leland Sklar on bass. The lyrics reflect Taylor's struggles with drugs and depression, suggesting that he has a new focus in life: "Let those rain clouds roll out to the sea/ Let the sun shine down on me/ Love has brought me around," he croons. The King composition "You've Got A Friend" immediately follows, and Steve Hoffman's remastering really shines on this track. Taylor's intricate picking style and ability to play jazz chords as well as rock and folk are on fully display, allowing listeners to fully experience Taylor's artistry.
Another theme on Mud Slide Slim is travel, a longing for escape. The country-influenced "Riding on a Railroad" particularly emphasizes this aspect, with Taylor singing lines such as "Time to time I tire of the life that I've been leading/ Town to town and day by day." Could this be the same man who seemed to emanate contentment and optimism in "Love Has Brought Me Around"? Nostalgia and longing permeates "Hey Mister, That's Me Up on the Jukebox," where Taylor suggests ambivalence about his newfound success: "I've done been this lonesome picker a little too long/ I've been spreading myself thin these days don't you know," he sings.
Other standouts include the concert favorite "You Can Close Your Eyes," a tender ballad that expresses love in a straightforward way. "So this old world still be spinning 'round/ And I still love you," he assures his lover, stressing a desire for stability in a chaotic world. "I don't know no love songs/ And I can't sing the blues anymore/ But I can sing this song," he croons. Yet there's no guarantee of permanence. "And you can sing this song/ When I'm gone/ It won't be long before another day," he sings. Thus he introduces a carpe diem theme, stating that "we gonna have a good time/ And no one's gonna take that time away." Similar to "Secret O' Life," Taylor accompanies himself with acoustic guitar only, underscoring the deeply personal meaning of the track. Interestingly the acute awareness of time reappears in the midtempo "Let Me Ride," where he sings that he wishes to "break these bonds that hold my soul and I'm on my way/ I can't help feeling there's no time to lose."
Throughout his career, Taylor has channeled rhythm and blues as well as many other genres. In the title track, he admits that "there's nothing like the sound of sweet soul music," and proves it by resurrecting the growling vocal from "Steamroller." He also shows a dry sense of humor in "Machine Gun Kelly," where he revels in telling the tale of an outlaw brought down by a "hard as hell" woman. After taking listeners on a wide-ranging journey, he concludes Mud Slide Slim with "Isn't It Nice to be Home Again," a simple song that unashamedly wallows in nostalgia.
Audio Fidelity's crystal-clear remastering, accented by the CD's 24K gold covering, reveals Taylor's superior guitar playing style and lays bare the starkly personal lyrics. It also emphasizes Asher's vastly improved producing skills—clearly he learned from his admitted overproduction on Taylor's Apple album. Taylor fans will surely welcome the vastly improved sound, and the re-release may also attract newer fans who want to hear the legend's early work. Those who have never heard Mud Slide Slim and the Blue Horizon are in for a unique, deeply moving listening experience.