Last night's American Idol auditions took us to the fabulous city of San Antonio and then to the Queen Mary in the Long Beach, Cali area. I'm going to condense this down because the first hour in Alamo City was pretty much a waste and I think this season's winner will be from the second hour. So let's hurry and get there, shall we? For the record you didn't miss my Week Two recap, I did. This episode was a mixed bag of good, bad, and forgetable. I'm a little burned out on the trolls and forgettable ones so let's focus on the good or at least memorable.
Savannah Votion has a 5-year old daughter and a big, impressive, perfectly average voice. She impressed the judges with her rendition of the inimitable Etta James' "At Last" and while the big notes were impressive, anything in the lower range was clearly her weakness. The judges loved her though and we'll be seeing her in Hollywood. Cristabel Clack does Alicia Keys' "If I Ain't Got You" and while she's almost a spot on Alicia Keys mimic, she does add some flavor that makes it her own and got Mariah excited and says "I know you, I get you, I love you." And with that she's going to Hollywod.
Ann Difani is nominated by her husband to audition for the show. She sings Faith Hill's "Stronger" and is a Faith copy. Randy loved her but I was bored by her; she's too thetrical and common. She'll be in Hollywood but I don't expect her to go beyond that.
Mariachi singer Victoria Acosta delivers a subpar version of "Big Girls Don't Cry" by Fergie and the lukewarm judges ask her to sing a mariachi song, which is where she really shines and gets her Golden Ticket. I'd love to see her go far. Next up is my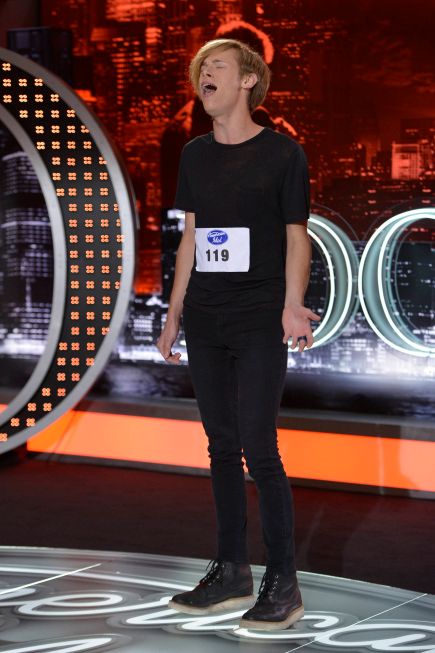 current favorite, Papa Peachez, who declares he is a "big black woman trapped in a little white body" and further proves it with a weirdly amazing, original song that leaves the judges divided and a tiebreaker is needed. Nicki loves him and dubs him a superstar. Randy needs a little convincing but finally sends Papa through and I hope we see lots of him in weeks to come.
Tanzanian singer Sanni M'mairrura does the most pure, sweet, raw version of "Who's Loving You" that leaves my jaw on the floor. He needs polish but his tone is gorgeous! Randy calls him "Fresh" and we'll be seeing him for weeks I hope.
Adam Sanders performs Etta James' "I'd Rather Go Blind" that shut everyone up! He seemed so flaky and overly emotional at first, usually a sign of a craptastic audition to come, but he was amazing. Four yeses.
Matt Farmer was told he'd never have kids after exposure to harmful chemicals while serving overseas. He brings his miracle baby in as proof that dreams come true and sings a heartwrenching version of Sam Cook's "Change Is Gonna Come" that shows off one hell of a powerful, raw voice. Mariah is smitten and he gets four yeses.
Jesaiah Baer will be remembered as the girl dressed as Tennile while on the Queen Mary when the fire alarm went off. She came back and finished her audition with Kimbra's "Settle Down" and this girl is pretty great. Nice, cool sounding, unique voice. We'll see her again in Hollywood.
After a rare complication during a tonsillectomy, Micah Johnson was left with a pronounced speech imediment but did not however lose his freaking magnificent signing voice. WOW! He sang a dead on perfect version of Zac Brown Band's "Chicken Fried" that got the judges excited and had Keith singing along. Randy even accused him of being a ringer. Mariah said he sings like that because his spirit is in his voice. He is so special and better make Top 40 at least or I will certainly riot!
Sweet little Rachel Hale is next and impresses on "People Get Ready," which garnered her much praise, comparisons to Wynonna Judd, and 4 yeses with a Golden Ticket. She's a solid country singer; I hope she goes deep in the competition.
After being on Maury Povish for being a talented child, 16-year old Brianna Oakley was bullied by classmates and wants to make the show to show other kids not to let bullying contrrol you. She has a unique look and when she says she's going to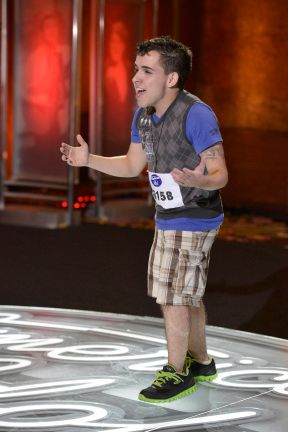 sing "Up To The Mountain" by my girl Patty Griffin. I want to dislike her because that song is untouchabe. She did it justice and prompted Keith to say "Good Lord, you're good." Looking forward to seeing more of her in Hollywood.
Now this is where I get annoyed and y'all get mad at me. We were told of the "big shocking sotry" to come for the entire show and now here it is: Matheus Fernandes, who was also bullied but for his height. I am thinking this kid is a plant because I know he was on FOX's The Glee Project in it's first season and thank God was sent home after he showed us his little six pack. His voice is really good but without his back story it's not that special. The judges are in awe of him and send him to Hollywood. I think he'll go far just based on the built in FOX audience from his previous reality TV stint. That's it for Long Beach and San Antonio... what did you guys think, did we see our winner in this show? I think there's a great chance two or three of them go far.