Welcome back, American Idol! You were missed! Well not so much missed as a vague memory of something we used to do two nights a week from January to May. I'm less excited about any future music superstars we're sure to uncover than I am about watching the weirdass dynamic of the four judges. Randy Jackson is returning as the elder statesman and he is joined by crazy as a loon living legend Mariah Carey, the Aussie country star Keith Urban and wig-tastic Nicki Minaj.
Tonight's auditions take us to New York which is often a wealth of as much talent as amusing freakshows. Mariah Carey shows she's emerging as a promising young actress after the Glitter debacle and was "moved" by contestant Tenna Torres about
whom Mariah said she hopes this season produces a winner just like her. Turns out she's a former "Camp Mariah" attendee and even has pics to prove it. Her rendition of "You've Got A Friend" was okay but she gets through and I predict she's quickly forgotten.
James Bae looks to be the William Hung/Psy of the group and proved me right with his tone deaf version of some Justin Bieber song I don't know. Randy's response was to say what a beautiful day it was. Nicki Minaj was trying to be sweet and Mariah said he needs to be a DJ. Randy broke it down with a solid "No."
Christina Isabelle is a former fat girl who has regained her confidence and now wants to subject herself to the criticism and microscope of the Idol stage. She gives us a throaty, bluesy, full version of "Summertime" which garners her four easy "yeses." Dancing cutie pie Evan Ruggiero was diagnosed with cancer a few years ago and endured 16 months of chemo and surgery and his cancer came back. After a leg amputation he has turned his creativity to his music. Doing a very ordinary "I'm Yours" by Jason Mraz the judges ask him to whip out his guitar and he's suddenly transformed on "Wanted Dead Or Alive" alas - the judges pass on him saying he has time and potential and hope to see him next year.
Next we see Randy heading to Staten Island to see a girl nominated by her mom in a segment dedicated to potential contestants who are too nervous to go to the judges on their own. I will say right now if one of these "chosen" guests wins I will violently riot. Jessica Kartalis is allowed to use her guitar and sing an average, boring original song. What a way to waste a golden opportunity. Nicki is leaning toward no and then the girl asks to sing something a cappella, but they all unanimously tell her "not today."
Israeli beauty Shira Gavrielov had a hit album in her homeland and wants to recreate that here in the States. I like her immediately; she has a great Adele/Duffy quality and her tone is beautiful on Amy Winehouse's "Valerie." She's an easy shoo-in to go to Hollywood and I call her as an early female frontrunner.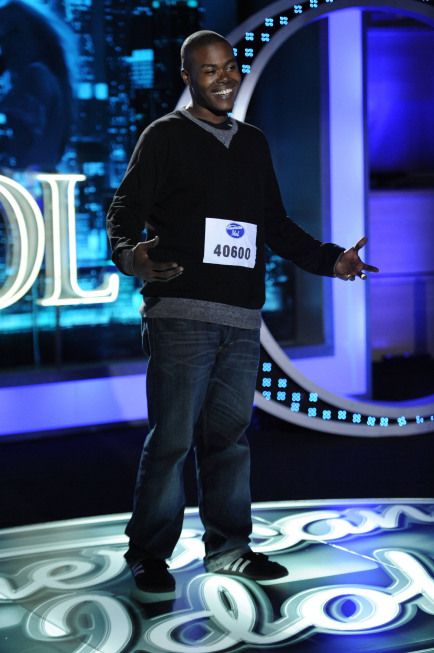 Brooklyn's Frankie Ford has a sad story, a heavy heart, and is a starving artist busker on the streets and trains of New York. He blows me away immediately by busting out "Sweet Dreams" and not a soulful r&b tune. He then flubs, stops and we are left with an awkward wait as he composes himself and slows it down and delivers an Adam Lambert-esque rendition that I loved. Keith claps and cheers immediately, he is a fan. Randy is on board as well. Mariah commented on his inner glow and Nicki said he's dynamic and a joy to watch. So I have to say it…Frankie goes to Hollywood…relax!
After the break and some "natural" interacting between the judges we are introduced to who is sure to be the joke of the second segment Benjamin Gaizey who is wearing roller skates, a Michael Jackson "Beat It" suit and a James Brown wig. He sings two terrible songs, throws in a hip thrust and I'm nothing but annoyed by this unfunny waste of my time. Mariah cuts to the chase and says "It's a singing competition so no."
Rozanna Shindelman looks like a million bucks but sings like a dollar fifty. Her voice is big and loud but not pleasant to listen to. Randy tells her "Dude, that was bad" and Keith throws in a helpful "yeah." Here we go into the medley of crappy artists and different flops and the trail of tears that follows when someone's dreams are publicly shattered, also known as "My Favorite Part."
New Jersey redneck Sarah Restuccio tells us that no one in her family "really ever sanged" but country's in her heart. She tries out with "Mama's Song" by Carrie Underwood. It's decent -- not spectacular -- but not bad at all for a 17 year old. The non-country stars of the panel Mariah and Nicki both think she's it. And then she throws a little "Super Bass" at Nicki and she nailed that, too. Then suddenly the judges are in a tizzy because now they can't compartmentalize her and that's upsetting for American Idol. She gets four yeses and I look forward to more of her even though I know she'll annoy the piss out of me in no time.
Angela Miller is partially deaf and doesn't let that stop her with a loud but, surprisingly good version of a Jessie J song. While it wasn't great the judges love her and we'll see this girl in Hollywood. Gurprett Singh Sarin calls himself the "Turbanator" as he has almost 50 turbans of every shade including the lavender one he's wearing tonight. He's interesting with an average voice on Maroon 5's "Sunday Morning" but it's enough to win him three yeses and a pass to Hollywood.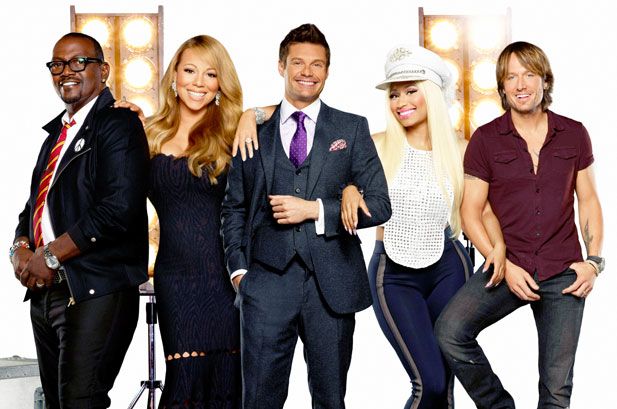 Ashlee Feliciano comes from a big family filled with medically challenged foster siblings that she's very hands on with. She not only looks like Corrine Bailey Rae but sings her song "Put Your Records On." It's a nice version, I wasn't blown away but she's very likable with a lot of potential. She's a no-brainer for Hollywood, we'll be seeing more of this one.
Well that's a wrap kids! My initial impression of the judges is that Randy seems a little edgier and more fed up than seasons past, Keith is a boring, non-factor, Nicki is funny and actually tender and Mariah's just above it all. I can't wait for her Diva-ness to rear its ugly head because we all know that will happen. That said - I'm excited for tomorrow when Idol auditions move to Chicago!