Blinded by Sound had a chance to interview New York blues guitarist, Dave Fields. He spoke about his new album, Detonation, playing with Hubert Sumlin, building guitars and some of his influences.
"Addicted to Your Fire" has a definite Hendrix vibe to it, as does the solo to "Prophet in Disguise." Who are some of the players, past and present, that you try to emulate?
There is a long list of guitarists that I listened to. I would try to emulate them just so I could understand what they were doing then incorporate the essence of what I had learned into my own playing. As a kid, some of my favorite guitarists were Jimi Hendrix, Chuck Berry and Eric Clapton. I also listened to the likes of George Benson, Alan Holdsworth and Roy Clark. I feel like I'm always discovering some new guitarist that I love. By the way, I get inspired by music not just guitarists. Lately I've been on a Fredric Chopin kick! Also my Dad, noted composer-arranger-producer Sammy "Forever" Fields who was the most important musical influence in my life, guided my development by infusing many different styles of music into my listening diet.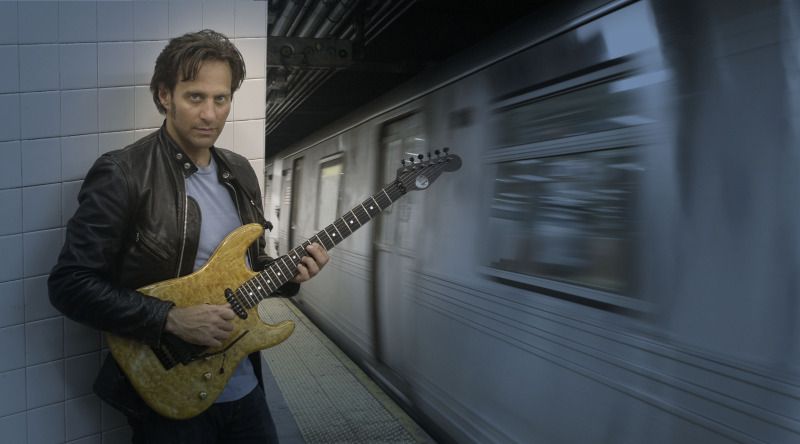 Detonation is more rock-oriented than your previous two releases. Was there a reason for the stylistic shift?
It's always been my plan to take what I do into a more rock sound. Hey, I love the classic blues guys like Muddy Waters and Howlin' Wolf but growing up in NYC there was more than just the blues, there was this things called rock! Detonation is the channel between both of my blues and rock worlds I live in. I've always said that I'm more than just the blues. Being a musician in NYC you can't help but to be exposed to many different styles of music. Blues and rock and jazz for that matter have always been in my soul. This CD is an expression of that.
"Doin' Hard Time," where you share vocals and guitar duties with Joe Louis Walker, is a great blues track. How did you guys end up hooking up for the song?
I met Joe on The Legendary Blues Cruise and the second I met him I knew we had to play together. When Joe would come to some of my NYC gigs and sit in, it was always magic. The producer of Detonation, David Z, and my manager Sandi Rose loved the idea of having Joe as a special guest. When he agreed to do it I was thrilled! I love the chemistry we have when we play. By the way, that guitar performance on "Doin Hard Time" was live in the studio!
You've played with an eclectic range of artists from U2 to Aretha Franklin and even got to front the late, great Hubert Sumlin's band for a tour. Was it intimidating to be playing with such a blues legend? Did he share any good Howlin' Wolf stories (That we can print)?
Hubert had so many great stories. He was an angel sent from the blues gods. I miss him so much. He told me so many amazing stories. However, as a tribute to Hubert I'd like to share a personal story:
A few years back I was on the same bill as Hubert. I had performed the set before Hubert so I was backstage watching his show. At the end of Hubert's show, a long line of people gathered to get the legend's autograph. At the top of the line there was a youngster with his guitar, he couldn't have been more than thirteen years old. Hubert took one look at the young man and sat him down next to him in a quiet part of the dressing room and in the most beautiful, loving way, that only a person like Hubert could do, counseled the aspiring musician, asking him questions and giving advice for the next fifteen minutes. It was one of the most touching, poignant moments I've seen and one I will always treasure. Hubert's kindness was truly inspirational. But that's the kind of person he was. Pure inspiration.
Congratulations on your recent induction to the NY Blues Hall of Fame. Did you ever imagine when you started playing that you'd receive such accolades?
Thank you! Its like a dream come true! As a musician you work hard, you practice, pay your dues, play gigs, pay more dues, makes CDs, did I mention pay dues?!!! To get recognition like this is great honor…!
What's next for Dave Fields?
I'm really excited about playing these new songs with my band: Andy Huenerberg (Bass) and Kenny Soule (Drums) Vladimir Barsky (Keys). We are going to Norway Oct 16th-29th, then a bunch of shows in the Northeast. Right now we're in a booking frenzy for next year. I do know that I'm slated to perform at The Tampa Bay Blues Festival in April 2013. I'm also excited about starting my next CD and I can't wait to reveal what it will be! (That's a secret!) Just a little aside: On the cover of Detonation you can see my new guitar "Tiger Rose." It's a guitar that I assembled from custom-made parts. I'm working on my next guitar-creation of which I hope to unveil soon!