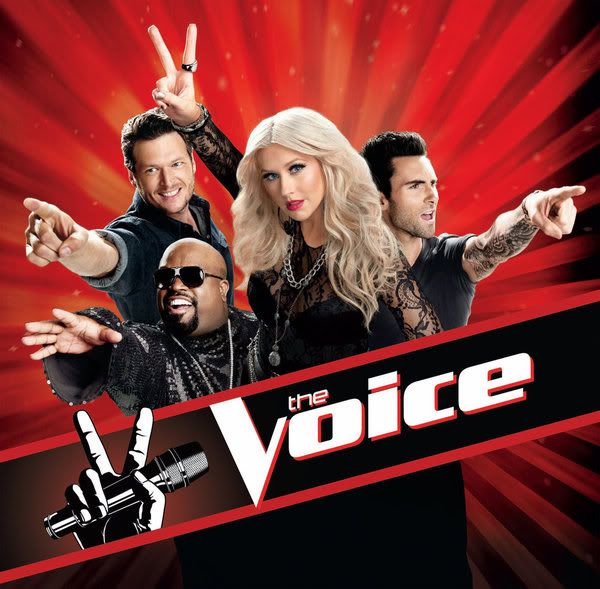 The second season of The Voice premiered tonight directly after the most boring Super Bowl I've ever seen, with Blake Shelton, Christina Aguilera, Cee-Lo Green and Adam Levine returning as mentors/judges and the ever-irritating Carson Daly as host.
For those not familiar with The Voice, it's definitely as if American Idol and The X Factor had a baby and threw in a bit of a twist. The "twist" being that the judges don't see who they're picking, just going on instincts based on what they hear. They call this the Blind Audition. They each sit in highback chairs with their backs to the singer and hit a switch that turns them around and lights up with "I Want You" on the base, below the chair, when they have heard enough and want to pitch to the contestant as to why they should be on their team. If only one coach picks a singer, they are stuck with that coach. If more than one picks a singer then the contestant gets to pick whose team they want to be on.
Last year Adam Levine's team won with Javier Colon, who I actually picked from his first audition to be the winner but with having not covered it for BBS last year, it might sound like I'm making that up.
First up is RaeLynn from Texas, who takes quite a risk singing "Hell On Heels" by Pistol Annies (said band featuring judge Blake Shelton's wife Miranda Lambert) and while Adam turns around immediately, it takes Blake another little bit but he's ecstatic by what he sees when he turns. Adam is doing the hard sell and making pitches, while RaeLynn initially said she wanted on Blake's team she seemed a little torn by the Maroon 5 charmer. She ultimiately got what she wanted and is on Blake's team. She was fun to watch and I could see her hanging around for awhile.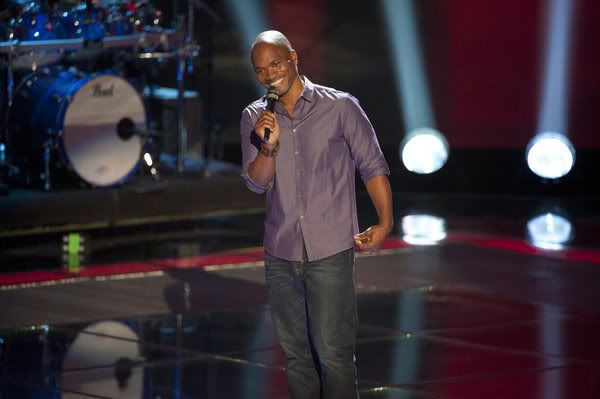 Single dad Jesse Campbell gets very few words of "A Song For You" out before three of the four judges turn around simultaneously. It takes Blake only a few more beats before he joins, putting Jesse in the coveted position of having the pick of his dream mentor (just like last season's winner, Javier Colon). I feel like Cee-Lo or Adam will be his pick, while all four judges made a strong pitch for him and he really waffles and struggles but goes with his first instinct, Ms. Aguilera. She's excited and screaming after she sits back down.
Danny Rosa is next and struggles though a pitchy rendition of "Animal" by Neon Trees. It looked like the judges were unsure for a minute then ultimately no one turned around because he was a pitchy mess. When they turned around they saw he was an everything mess.
Juliet Simms does a bar singer's version of "Oh! Darlin'" and prompts both Adam and Cee-Lo to turn around for her followed soon by Chrsitina; she ultimately goes with Cee-Lo.
Chris Mann gives us a very operatic "Because We Believe" and it starts off in Italian then just as he reaches the crescendo, Cee-Lo and Christina turn around and he points at Christina like that's who he wanted. Blake never hit the button because "I didn't know what you were saying." I refuse to believe Blake Shelton is that ignorant, or maybe I'm firmly in denial. It was ridiculous either way. Chris goes with Christina and she now has two of her 12 finalists set.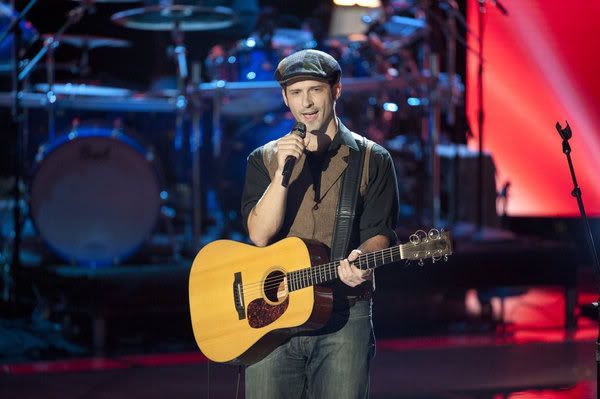 Tony Lucca is a former member of the Mickey Mouse Club and he and Christina have history from that. He comes out with a smoky, rich, sexy version of "Trouble" and soon has the ears and eyes of all four judges. The judges begged and pleaded! Adam even saying "please, please pick me" which ultimately worked and he bagged Tony Lucca. I see this kid lasting deep into the competition.
After he walks off the stage, Christina chases him down saying she remembers him and there's "no hard feelings" for picking Adam. With that, Adam, Cee-Lo, and Blake have one contestant each and Christina has two.
So that was the first show: pretty impressive and not too annoying. The reason I quit watching last season was the constant sniping between judges. They have already started in on each other,but I will hang in for y'all and see this thing through. There's another audition show tonight so check back for my review and we'll watch and listen as these teams take shape.