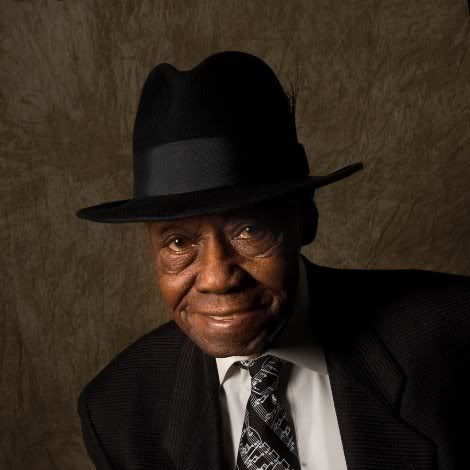 It is with a sad, heavy heart I report the sad news that Joe Willie "Pinetop" Perkins passed away at his home in Austin, TX today at the age of 97.
Perkins became the oldest Grammy winner in history earlier this year for Joined At The Hip, his album with Willie "Big Eyes" Smith, the two both former Muddy Waters sidemen. Perkins replaced Otis Spann as Waters' piano player and in doing so became, along with Spann, one of the most famous and influential blues pianists in history.
Perkins moved to Clarksdale, MS in 1940 where he met Robert Nighthawk and Earl Hooker. Those two would be his most regular musical partners for the next 30 years. Perkins got a gig playing on the King Biscuit Hour with Sonny Boy Williamson II in Helena, Arkansas and knocked around the South and Midwest until he moved to Chicago in the '60s. He played on Earl Hooker's Two Bugs & A Roach and in 1969 joined Waters' band. A documentary of Perkins' life, Born In The Honey was produced in 2007.
Blues and piano are synonymous with Pinetop Perkins; the Blues Foundation has named an award for Perkins, given to the outstanding pianist each year. Last year, Perkins was on hand to present the award to Eden Brent.
I'm heartbroken today. The world has lost a dollop of that honey sweetness. I have only a few memories and personal connections to Perkins. I'll share those over the next few days as well reflect and revisit the legacy of music he leaves behind.
Rest in peace, Pinetop. We miss you already.