Tonight's edition of The Voice once-again pits super star judges Christina Aguilera, Cee-Lo Green, Adam Levine, and Blake Shelton against each other as they compile teams of 12 of the best acts they've heard to take with them to the next round.
The Blind Auditions begin with folk singer Sarah Golden, who is presented to us as a bit of a mystery. Viewers don't even get to see Sarah's face until the mentors start to turn around. She chose "You and I," and she gives it a country "twang" as Christina calls it. Cee-Lo and Blake both hit their buttons and she wisely chooses Cee-Lo.
Elley Duhn has been singing since she was super young, her parents even allowed her to quit high school in her Senior year to pursue her music career. She decides on "Mercy" by Duffy and her voice has potential and some good qualities, but there's no power or big notes. She's very forgettable. At the very end, her last note was a big "Ow!" and Adam said if that had happened just a few seconds earlier, he'd have pressed his button. As it was, no one pressed their buttons and Elley must press on pursuing her dream elsewhere.
19-year old Pip dresses like Mr. Rogers' grandson with his suspenders, bow tie and orange Chuck Taylor's but has a voice like a young Jim Morrison, on "House Of The Rising Sun" it's very smoky, mature and a little sexy, even. All four judges turned around for him, fought hard and a little dirty but Pip's choice was ultimately Adam Levin who won with his best used car salesman pitch.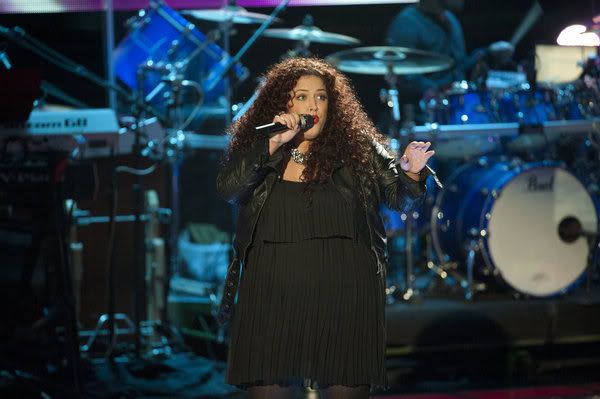 Erin Willet is next and says her life has been full of music since she was born as she always sang with her dad. Adding a sad twist to the story her dad is dying of cancer, and she said she needs this for her family. She sings "I Want You Back" and Blake is the one and only to turn his chair. Her voice is big and she has great energy but there's nothing particularly special about it.
David Grace is a former college football star who left a coaching career to pursue singing. He comes out strong from the start of "Sweet Home Alabama" that has Blake and Adam acting like they might hit their buttons and they never do. They both give lame excuses about bendy notes and looking for a note, I don't know, silly nonsense. David looks heartbroken until he walks back into the waiting area and sees his family; he seems to recover quickly.
After losing her voice for two years due to black mold in home, Katrina Parker is ready to pick up singing again and blew me away with "One Of Us" which has Adam turning around in his chair first and says "I Win" to the other coaches because they failed to turn around.
Family man Geoff McBride wears sunglasses all the time because of an old kickboxing injury that scratched his retina. He gives us a soulful, funky rendition of "Higher Ground" that had Xtina turning around first with Cee-Lo following shortly after. Geoff ultimately chooses Xtina giving her her first contestant to add to her team of the night.
Erin Martin is a former model who has been to several showcases and they all tell her she needs development so she thought the perfect solution is to get on The Voice and get some expert coaching. She has a weird little pixie voice and her rendition of "Hey There Delilah" is really quirky which is both the pro and the con. Cee-Lo and Blake turn around with Cee-Lo saying "you belong to me quite naturally, don't you agree" and Blake taking a different approach and praising her smile. She picks Cee-Lo, which is perfect for her weirdass voice. Erin isn't making it far, for sure.
James Massone is a 23-year old in a 15-year old's body complete with a too-big varsity jacket who sings "Find Your Love" and sounds even younger, like Justin Bieber and Justin Timberlake (in his N'Sync days) had a baby. Everybody but Adam turns around when he finishes his song he starts to cry, immediately. I think Christina would be the perfect match but he goes for Cee-Lo which makes sense because he looked especially happy when Mr. Green turned around.
Perez Hilton's friend Winter Rae works at Lucky Strike in L.A., has blue hair, and a penchant for leather dresses. So it's a bit of a surprise when she comes out with a sultry, pretty voice and knocks "Take A Bow" out of the park…just barely, as it had rocky moments but her look and rasp take it over the edge. Her high notes get really pitchy and no one turns around. I'm glad no one did when she says "Seriously?" when she's left looking at the back of four chairs.
Atlanta's Chris Cauley picked up his musicality from his banjo playin' bluegrass granny whom he used to play with growing up, despite his being more a soul/blues/r&b singer. His take on "Grenade" was a raspy little jewel, just in time for Valentine's Day. He didn't change it a lot or do anything creatively with it but sang the hell out of it. Fellow Atlantan Cee-Lo turns around first which seems a weird matchup but Adam turns around which makes infinitely more sense. Chris makes the best decision and goes TeamAdam.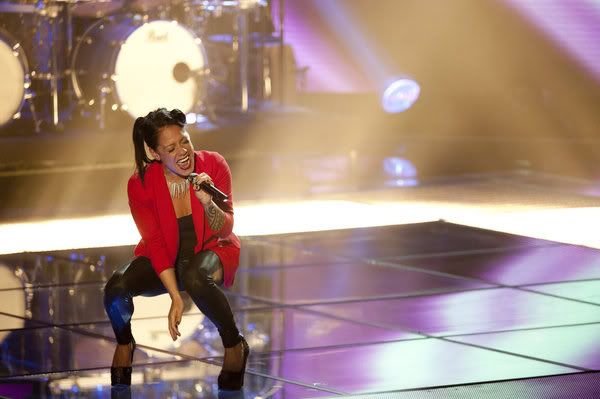 In a major surprise of the night, Jordis Unga, who was my love and my favorite on her season of Rockstar: INXS (that she actually seemed to have locked up until a tragic high note on "Dream On" sealed her fate) has changed her looks a little. Gone are the BoHo skirts and dreadlocks, in teir place was a sensible skirt and straightened, sleek hair. She takes on "Maybe I'm Amazed" and Blake turned around first, with Xtina and Cee-Lo following simultaneously. The fact that this girl will be on this show excites me immensely and makes me so happy. She got everyone but Adam to turn around which is almost too bad because that'd be a good fit. Blake reminds her he was the first person to turn around and admits she makes him want to push himself and be a better performer. The ol' Shelton charm works again and Jordis Unga is Team Blake.
Right now as it stands Team Blake five members, Team Cee-Lo, Team Adam and Team Xtina each have six members, which brings us about halfway through the Blind Audition phase.
Come back next Monday for another night of Blind Auditions and my review, recap, and random thoughts on the matter.