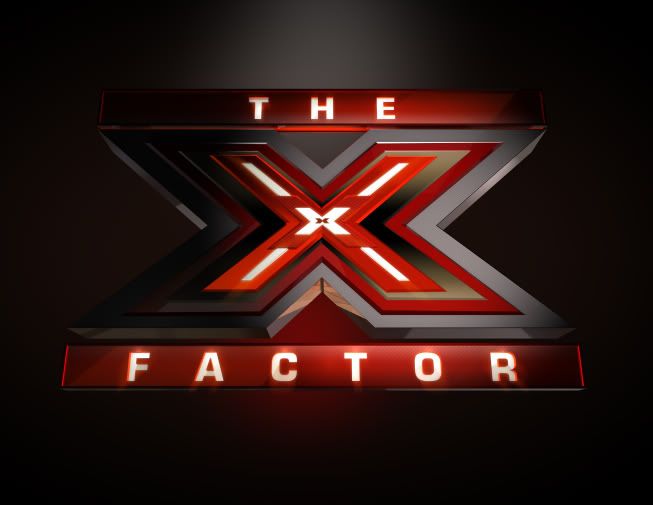 This week's theme on The X Factor is "giving thanks," allowing the remaining nine contestants dedicate their performances to the special people in their lives. This has a lot of potential to be syrupy and predictable butactually finally gave us a few standout performances while proving contestants should always choose their own material. As a whole everyone was far more connected and engaging than in previous weeks.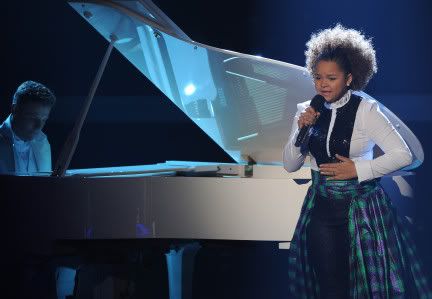 Simon Cowell finally got Rachel Crow off her pedestal and she was swingin' it on the stage in a cute leggings/half dress combo. Rachel dedicated "I Believe" by Yolanda Adams to her adoptive parents who got her out of the abusive, drug-fueled situation she was in. "Believe" was the perfect way to kick off the show, Rachel bounced and swayed and slayed that song. She wasn't cutesy or dated, it was the ideal song and arrangement to showcase all of her beauty and talent. Paula Abdul said Rachel is "an angel here on earth" and Nicole Scherzinger said she's now a believer in Rachel.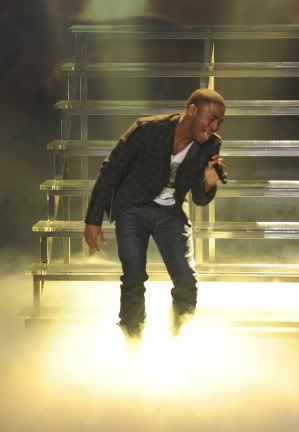 Marcus Canty dedicates his song, "A Song For Mama" (Boyz II Men) to his single mom for all her love and sacrifices. It was a vibrato-fest and the best Marcus has sounded since his audition; he needs to sing to his mom every week. He embraces his mom directly after with tears in both of their eyes. You know I was a mess after both of these performances back-to-back. Nicole said it was perfect and he sang from his heart. LA Reid told him, "You're as great as any singer I've ever worked with."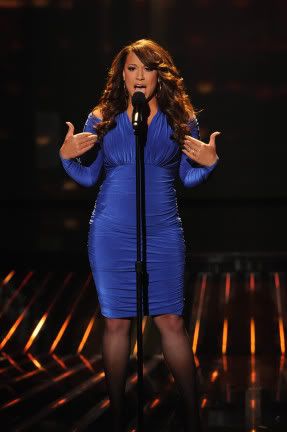 Melanie Amaro dedicates R. Kelly's "The World's Greatest" to God and as big and over the top as this could have been, it was just powerful enough and never cheesy. Not even the four thousand gospel singers seemed to be too much. Melanie was connected directly to God through her heart during this performance and was mesmerizing and fun to watch for the first time in weeks. LA says "I'm supposed to criticize that?" Melanie is tearful, almost hysterical and speaking in a strong accent due to her upbringing in the Virgin Islands and says "this is the real Melanie!" LA tells her "that person, right there, keep her." She finally showed a tender side and I'm afraid Melanie just tipped the scales drastically in her favor.
Chris Rene is seven months clean and sober and dedicates his performance to his rehab counselor, Tim. Chris reveals it was a potentially fatal car wreck while under the influence that was his turning point. Chris mashes up The Beatles' "Let it Be" with his original "Young Homie" (from his audition) and as awful as that sounds on paper it was the perfect blend and heavy on The Beatles and light on the homie. Whoever thought of this is purely a genius because we haven't felt connected to Chris since his audition when he did this song and we initially fell in love with him. He was spectacular. Nicole says, "Chris, look how powerful the music you write is!" Simon said he thought the original song worked better than the first and agreed this was the best way to go tonight.
The Lakoda Rayne girls are thankful for dads, boyfriends and a grandma. I don't put a lot of time or effort into learning their story or names because their time with us is sure to be short (something that would certainly put me in a thankful state of mind). Taylor Swift's "You Belong With Me" isn't a favorite of mine but seeing the first two blondes slaughtering this song causes me some physical pain. The brunette gets most of the solo time, which they should have done all along instead of evenly dispersing vocals; she was the best of the bunch. They're forgettable, saccharine, and the restructuring of the group will prove to be too little too late. LA said they drummed up excitement.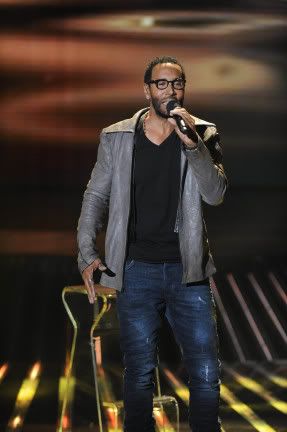 "Everyone thinks their mom's the greatest, I know my mom's the greatest" and with that simple sentence, I'm in love with LeRoy Bell. Talking about his mom who passed way two years ago was the most real and relatable LeRoy has ever been. Sarah McLachlan's "Angel" is a beautiful, brilliant song and LeRoy's rasp gets to shine through as he sings to his mom with tears in his eyes. Unfortunately, as great as this is, he picked the cat/dog abuse commercial song and all I see are sad puppy eyes as he sings. Melanie's gospel singers show up to lend a hand and it was a tad corny, but LeRoy does need some dazzle since he can't seem to provide his own. LA Reid said "it wasn't your very best, it was good and heartfelt but not your best." Paula vehemently disagrees and Simon says he made his mark this week and it was heartfelt and he felt connected.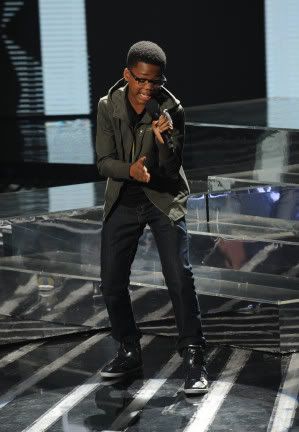 After last week's debacle when Astro was in the Bottom Two he, his parents, and his mentor LA Reid rally around him and assure us he does not take his fans for granted and has learned to be gracious and to feel grateful for all he does have. Astro dedicates this original rap to his "Astro-nauts" and says "I do this for y'all." He was engaged and engaging, positive, hopeful and absolutely dynamic as well. He hooked me with the opening line, "No tantrums this week, I'm 15 and 15 is the new 25." After his performance he addressed TeamAstro and says, "I'll never let you down again." Nicole tells him "you are a champion" and Paula Abdul says "you're well on your way to being prolific." Simon admires Astro and says the music business needs unpredictability, and admires his passion.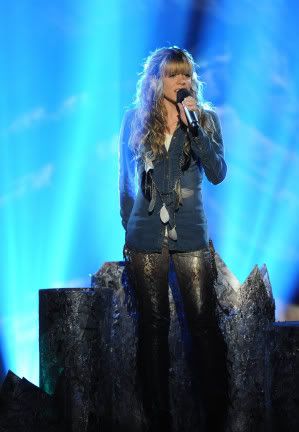 Drew No Last Name dedicates Demi Lovato's "Skyscraper" to her best friend "from all the way in second grade," Shelby. Seeing as how I'm not a 'tween nor am I the parent of one, I have never heard this song before. After this predictable, bland performance I won't be looking for it, either. Drew was swallowed up by this song and it's easily her weakest effort to date and I will never forgive her for that glass-breaking off-key note she assaulted us with. LA had issue with the fact that she's doing songs "for people who are 40, you're young." This prompted Drew to get a little screechy and whiny as she defended herself.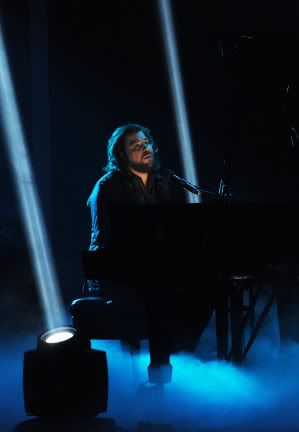 Tonight's show closer is Josh Krajcik, who produced the fifth crying jag of the night from this reviewer, but, who's counting. Josh dedicates The Rolling Stones' "Wild Horses" to his teenage daughter who he had when he was 17 years-old. My favorite version of this song has always been the cover by The Sundays and this joins those ranks. You can feel every ounce of emotion Josh is feeling as he sings, and it forces you to feel it, too and take the two-minute journey along with him. The arrangement was a little sleepy but Josh was fantastic, even playing the piano as he sang; I believe making him the first to play an instrument this season. LA tells him he "has the right amount of everything it takes to win this competition." Simon tells him that's what it's all about: a great song, a great voice and meaning everything you sing.
Once again, Josh was my favorite of the show, with Melanie (yes, I said it) and Chris Rene coming in second and third. Kelly Clarkson and Bruno Mars provide the entertainment for tomorrow's results show that will send two contestants home. There will be a Bottom Three and the lowest vote getter automatically goes home, while the other two must sing for their survival. I predict Lakoda Rayne, Astro, and LeRoy Bell will be in the bottom with Lakoda Rayne and LeRoy going home. Judging by tonight's efforts I say Drew should be a part of that group but alas, the tween set won't let that happen.
What did you think of tonight's performances? How are your favorites doing so far, who would you send home tomorrow?