The X Factor's Top 11 perform songs from movies in hopes of making it to the Top 10. The entire first segment is basically a commercial for Adam Sandler's ridiculous looking new movie Jack and Jill.
Stacy Francis is up first and before she even starts they show a clip of LA Reid saying "I co-wrote it; it's a bad song choice." And from the very beginning I see he's right. Stacy is way out-matched on Whitney Houston's "Queen Of The Night" (Bodyguard) because she's forcing it and trying too hard, resulting in less powerful, hard to listen to vocals. LA Reid didn't like it, Simon said she looks cute but he'd have her wearing that at his house, not on the stage. Meow.
LA Reid gives Marcus Canty Rose Royce's "I'm Going Down" from the movie Car Wash and LA said he wanted to strip it back to showcase Marcus' vocals when what he should have done was strip Marcus of his spangly dinner jacket before he got on stage. He was solid but I've still never liked Marcus as much as I did on his initial audition. Nicole loved it and told Marcus to expect "mad chicks." Simon loved it but hated the jacket, too. He's become quite the fashionista these days.
Believe it or not, Simon claims that You, Me, and Dupree is one his favorite movies and gave Drew No Last Name Chris Rene's theme song, "Fix You" by the fabulous Coldplay. I seriously thought it was weird that Simon gave her the song they play every time someone else is on screen. Drew sang it like I guessed she would; slowly, predictably, and unbelievably boring. She also looked like Cyndi Lauper and all of the Go-Go's lovechild with crimped, pastel hair and a nightmare of a gold lame/crinoline dress. LA Reid said she was great, but boring and predictable. Nicole called her a "little slice of Heaven." Simon thinks she's a genius and even threw in a Lady Gaga comparison-zinger directed at LA Reid, who famously passed on Gaga, early in her career.
This week Nicole Scherzinger picked U2's "I Still Haven't Found What I'm Looking For" (Runaway Bride) for LeRoy Bell because it's in his comfort zone and showcases his talents as well as shows us what kind of artist he wants to be. LeRoy did a pretty good job and looked happy and comfortable with what he was singing. The stage production was a tad over the top but LeRoy held his own. Simon said it was classy and showed control while sounding a third of his age. Simon is obsessed with LeRoy's age.
From How To Lose A Guy In Ten Days, Lakoda Rayne performs Keith Urban's "Somebody Like You" and it's just a big ol' mess. They are disjointed, they look like a country cliché, and someone has given at least three of them hideous weaves or wigs. Simon said it was an improvement from "last week's absolute horror show."
I knew either Astro or Chris Rene would tackle "Lose Yourself" (8 Mile) but didn't choose it for either of them in my song predictions because it's too obvious a choice. However, Astro took Eminem's song and as I predicted wrote new lyrics and killed it- in a good way. The chorus was the weakest part of the performance but this kid's the real deal and is out of this world talented. At the end of his performance Astro said "Rest in peace Heavy D and Rest in peace Joe Frazier." I guess he wasn't an Andy Rooney fan. Nicole said a lot of positive drivel that I didn't pay attention to because she's taken to talking in a creepy, weird, affected, clipped tone and it's driving me insane. Simon says Astro has the "X Factor" and his mentor LA Reid commends his bravery for re-writing an Eminem song.
Worthless Host Steve Jones makes me miss American Idol host Ryan Seacrest or even that crappy Brian Dunkleman with his amateurish ad-libbing and awkward presence. He is about as pretty as they come; he's just dull as dirt. I feel about watching him the way Sharon Stone felt about dating Dwight Yoakam: "I'd rather eat a dirt sandwich."
From the Michael Jackson movie, This Is It Simon chooses "Man In The Mirror" for his show pony, Melanie Amaro. It looks like the bad weave monster got to her too and a "curvy" girl such as herself should never wear those pants in public. Melanie did a totally fine job that bored me to tears. LA Reid gives her almost the exact same critique he gave Drew; that it was great, strong but not inventive. Simon says she was "bloody fantastic" and thinks this was her best performance of the entire competition.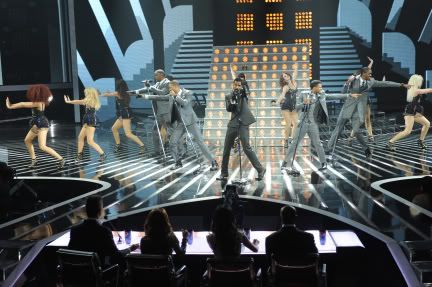 The Stereo Hogzz sing Christina Aguilera's "Ain't No Other Man" from Strictly Come Dancing and in a purely genius movie there are photos of them along with their names flashing in the background, in what I assume is an attempt to bond watchers to the five man group. They looked fantastic in dashing suits and this is my favorite performance of theirs so far. LA Reid said they looked and sounded fantastic but he's never heard that song before. Simon loved it but thinks they're not being true to themselves and acting too cabaret and not performing the music they would record.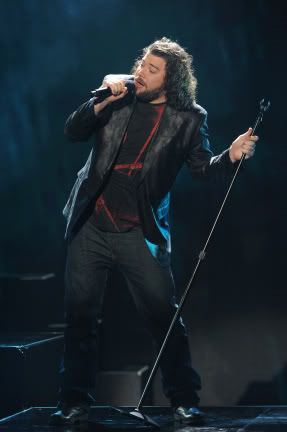 Gravelly voiced phenom Josh Krajcik sings "With A Little Help From My Friends" from Across The Universe. He looks much improved and while the song was quite predictable, Josh's voice is insane and I love his tone. I'm a bit tired of the growling but he's wonderful. Paula nails it (yes, I just said that) by saying Josh's voice is "chicken soup for the soul."
Also going the obvious route, Chris Rene does his own version of Coolio's "Gangsta's Paradise" from Dangerous Minds. Before he sings, we see clips of LA and Simon both saying we need to see the Chris we all fell in love with from the first audition. The lyrics are re-written by Chris, chorus is the original and I'm a little freaked out but, overall I like it. I hate to say that Astro is more captivating and a better songwriter at 14 but, while Astro's a better rapper, Chris is a better singer. I am having a hard time getting into this… I think he also just changed the words to "Pastime Paradise." It was the most natural he's seemed since we met him but I'm still a little put off by it. Simon says he's potentially a huge star.
Simon says he's saving the best for last when he introduces Rachel Crow, he even admits he's not really done right by her up until now. Rachel picked the Etta James classic "I'd Rather Go Blind" from Cadillac Records herself and good thing she did because while it wasn't a current or particularly fresh take on the song, she was brilliant. We got to hear her at her best without all the cutesy distractions. LA Reid says this performance changed his mind about whether or not she could win it all. Simon agrees, telling her she's "back in the game." I wonder if she knew she was out of it. Worthless Host Steve Jones gives a creepy giggle and tells Rachel he wants to eat her up.
Yet another night of no breathtakingly amazing performances; maybe I'm jaded or too cynical but while I have a few favorites, no one is making my jaw drop each night or any night, for that matter. Except for Astro. I wonder if he really is the one to beat.
I think the bottom two will be Stacy Francis and one of the groups, hopefully Lakoda Rayne. And since they won't leave Paula with just one group I'm calling my shot: Stacy Francis will go home. What did you think of tonight's performances? How are your favorites doing?