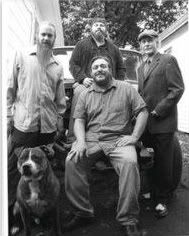 Kilborn Alley Blues Band played a powerhouse show in Huntsville last night, previewing material from their upcoming album Four as well as mining their previous albums and a few blues classics.
I lauded the band's ensemble playing when I reviewed Better Off Now and they create the same unique, intuitive interplay that characterizes their record when they take the stage together, and they do it as a quartet. I spent a couple years following the E Street Band, seeing several shows, and got used to hearing a big band make a big, holy racket. It's been a long time since I've heard the kind of a four-piece with that much sonic force and it starts with the rhythm section of bassist Chris Breen and drummer Ed O'Hara.
O'Hara doesn't have a massive kit like Neal Peart and doesn't need it. He hits as hard as a brick, helping build the foundation of the pocket. If O'Hara is the brick, Breen is the mortar and I mean that both ways: he's the glue and his deep rumble feels like it could cause the floor to crack wide open without becoming leaden or predictable.
The rhythm section navigated the front line through a diverse set, steering frontman Andrew Duncanson and Josh Stimmel and giving them freedom to explore and explode which they did, interlocking their guitars to create a unified sound. Stimmel's leads were creative bursts of piercing, stuttering shrapnel without resorting tedious "blues band" clichés.
Duncanson's vocal range was even more impressive live than on record, and that is saying something. It's not fair to have that kind of expressive voice and make it all seem so easy but he put that's exactly what he did, rising to the challenge of bringing just the right vocal presence to the varied songs from the band's set list.
Among the highlights were "Fast Heart Beat," "22nd Street," "A Couple Of Days," "Wandering," and the instrumental workout "Argyles & A Do Rag" from Four. "Fire With Fire" and "Redneck In A Soul Band" and "Fire With Fire" from Tear Chicago Down and "Train To Memphis," "Foolsville," "Watch It," and the title track from Better Off Nowrounded out an energetic set of the band's originals. They worked in a grooving reinterpretation of the classic "Goin' Down Slow," made famous by Howlin' Wolf and sprinted through a frenetic rendition of Muddy Waters' "Got My Mojo Working" to close the show.
A growing catalog of great songs and performances like last night at Humphrey's in Huntsville are two major reasons Kilborn Alley Blues Band was one of six bands nominated for Band Of The Year by the Blues Foundation last year.