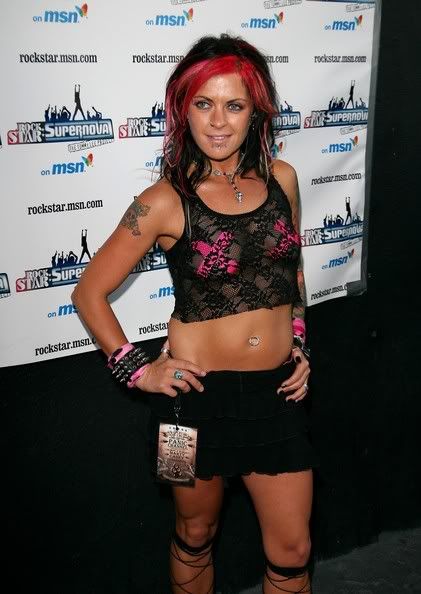 Tracii Guns announced Jizzy Pearl would be leaving LA Guns after two years fronting the band a mere two days before releasing an abysmal live album -- Acoustic Gypsy Live -- featuring Pearl.
But wait! You don't have time to let the shock reverberate through your body or mourn a Jizzy-less LA Guns (the Tracii Guns version, mind you), because Tracii has already announced his new lead singer...
You may remember the highly obnoxious Dilana Robichaux from the bad idea reality "rock" singing competition Rock Star:Supernova which was preceded by Rock Star:INXS. Dilana was an early favorite of mine but her entitled behavior and scheming ways put off viewers and the members of Supernova enough to bypass her for Canadian rocker Lukas Rossi.
Now the loss of an LA Guns' lead singer isn't as titillating as the meltdown over at the Kings of Leon camp but it's amusing nonetheless. Why, you ask? Because there IS A LEAD SINGER FOR LA GUNS! He's touring as "Phil Lewis' LA Guns" and I cannot put into words how ridiculous is to have two bands touring and recording separately under the same name. As if this wasn't crazy enough, Guns also fired longtime guitarist Jeremy Guns (also of Brides Of Destruction) and replaced him with Dilana's bassist from her solo band.
As of this latest lineup LA Guns has had 43 lineup changes, 13 bassists, and nine different lead singers (Jizzy Pearl having two stints would technically make it 10). This all seems desperate, misguided, self-indulgent and over all, sad. Bottom line is, if there is going to be an LA Guns in the universe there needs to be one, and it needs to have Phil Lewis fronting it with Tracii Guns as the lead guitarist. In the same band. At the same time.
I have faith it will happen one day, as soon as this incarnation crashes and burns with a quickness. In case you've been wondering how Phil Lewis feels about all this, he wrote to MetalSludge.tv with this letter.
So what do you think…two LA Guns, Phil and Tracii back again, or couldn't care less?