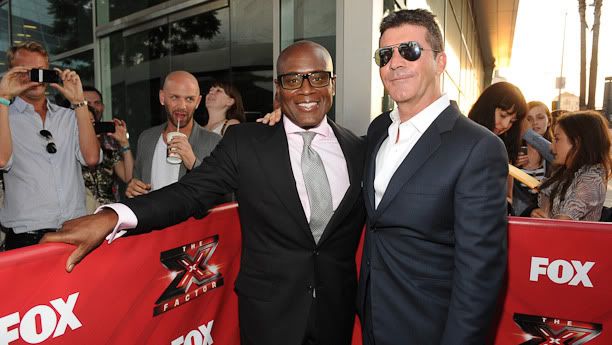 The ink had barely dried on X Factor winner Melanie Amaro's contract before rumors of firings, hirings, other contestant contracts and overall dissatisfaction started swirling around regarding the show. In a conference call last week with The X Factor creator (and mentor to Melanie Amaro), Simon Cowell and the only other mentor who retained their job L.A. Reid, a lot of these rumors were laid to rest and a few exacerbated.
March 1st begins the online audition process for the show (rules and regulations can be found here) When asked what they were looking for this season, Simon mentioned they are accepting artists that already have contracts this year, and he's hoping for more Melanie Amaros and a stronger groups category, while LA said more original hip-hop artists like Astro and Chris Rene are welcomed.
Even though reporters were instructed to keep questions focused on the upcoming season and auditions, inevitably the conversation kept going back to why Worthless Host Steve Jones and judges Paula Abdul and Nicole Scherzinger were let go. Simon was gracious and even excited about repeatedly answering these questions; he loves and respects all three people and called them immensely talented at what they do. Simon also said he is certain he'll be working with all three of them in some capacity very soon and goes on to say that the hosting job is a thankless one that's much harder than it looks and his wish is to not only have two hosts for The X Factor but to have a male/female dynamic. He loves the playfulness and back and forth banter with male/female hosts. He also reminded us that was how this season of X Factor was supposed to go but Nicole was moved to a mentor position after the loss of Cheryl Cole.
As for rumors surrounding future hosts and judges, neither LA Reid nor Simon Cowell would divulge much other than all the names we've heard are at least on Simon's dream list if not actually in talks with the powers that be. When asked if Avril Lavigne, Britney Spears, Janet Jackson, Shania Twain and Mariah Carey were who he was alluding to, Simon just gave his long, exaggerated smoker's laugh and said "next question." LA also addresses the rumor of the late Whitney Houston being tossed around as a judge option and he said while they would have loved having Whitney in that or any capacity, the talks sadly never even got that far before her untimely death. Simon also assured us there would be two females filling the slots of Nicole and Paula and he would like more Americans on the show and says his job is secure because he's essentially half American now.
LA mentioned Rachel Crow's being signed to a show deal by Nickelodeon last week and said he knew she'd be a huge star the moment she stepped on to the stage for her first audition. Simon took that time to tell us he rushed up to Rachel after her elimination and told her "I honestly believe this is the best thing that could have happened to your career" because of the public outcry at her early elimination and sympathy that was to follow.
When asked if they will pay tribute to Whitney on the show and how they plan to keep her memory and contributions to music alive, Simon said there will likely be a tribute on The Voice and Idol first so if they do, it will be more original, bigger, and likely better.
The next question was to LA about the status of his boys' careers as well as the other popular contestants from last season. LA informed us that "several of these guys have signed on for albums: Melanie Amaro, Chris Rene, Josh Krajcik, Rachel Crow, Astro, and Marcus Canty." He says the ones he's responsible for are Chris and Marcus (his single will be out in 2 weeks), and that Astro is recording with Pharrel, while Melanie is being handled carefully and specially as the winner. Simon interjects that they are taking their time with Melanie as they know it takes time, trial and error, to develop a new artist and there's not a time table on this. He believes material is key.
When asked about the motivation behind adding the "people with existing contracts" clause now, with one season under their belt, which allows people who are under contract to audition, Simon says it's the real world and they would be naïve to think the only worthy talent is un-contracted. He also thinks this will set a new precedent and other shows will change to this as well.
That was probably the most informative and worthwhile conference call I've been a part of so far and I loved hearing Simon's insight and enthusiasm for The X Factor. If Simon knows anything, it's how to create hype and drama, I predict this next season of the show to establish it firmly as the behemoth that American Idol once was.