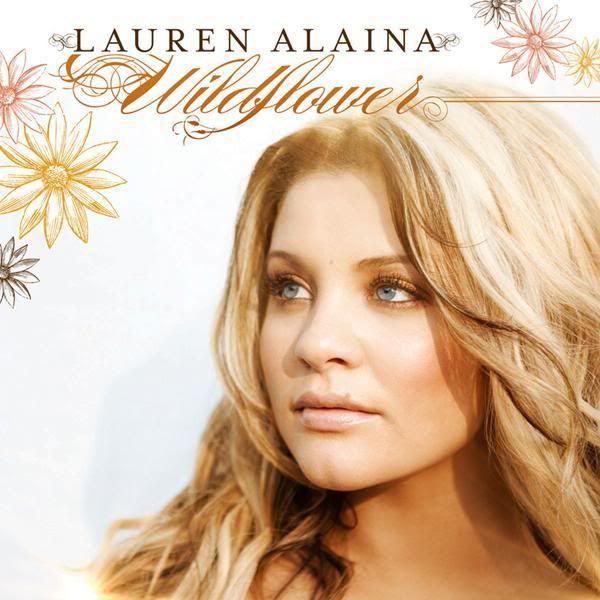 Lauren Alaina's debut album Wildflower is set to be released October 11, she recently revealed the cover art, and today she released the track listing to further pique our interest.
Lauren has assembled (or had assembled for her, rather) some of the heaviest hitters in Nashville, snagged one co-writing credit, and had a song penned for her by her own idol, (and former American Idol winner) Carrie Underwood.
As the runner up to Scotty McCreery on American Idol's tenth season, Lauren has been used to doing everything second to Scotty and going head to head with him with coronation singles and music videos being released a day apart, they are releasing their solo debut efforts a week apart.
Lauren has said that she approached listening to her demos as a fan, rather than an artist and tried to envision her favorite artists singing each song and how would it sound to her on the radio. Some of the songwriters for Wildflower have contributed songs to albums for Carrie Underwood, Martina McBride and Josh Kelly.
The songs listed seem to be standard country-fare, the lead track "Georgia Peaches" sounds promising and sweet (no pun attended), not to mention appropriate coming from this Georgia native. "Dirt Road Prayer" sounds like something Miranda Lambert would sing, and "The Locket" sounds like it has tear-jerker potential similar to "Like My Mother Does" which is also on this album. With 12 tracks (just like Scotty) I'm left to wonder if that's too much of a good thing. Less than a month until we get to hear both Idol's debut efforts and end all the speculation. I'm reviewing the both so download or purchase your copies and check back here for my thoughts.
1. "Georgia Peaches" (Mallary Hope, Blair Daly, Rachel Proctor)
2. "Growing Her Wings" (Nicolle Galyon, Nicole Witt)
3. "Tupelo" (Hillary Lindsey, Steven McEwan, Gordie Sampson)
4. "The Middle" (Zac Maloy, Rachel Proctor, David Hodges)
5. "Like My Mother Does" (Nathan Chapman, Liz Rose, Nikki Williams)
6. "She's a Wildflower" (Hillary Lindsey, Steven McEwan, Gordie Sampson)
7. "I'm Not One of Them" (Sarah Johns, Tom Shapiro, Tony Martin)
8. "The Locket" (Mallary Hope)
9. "Eighteen Inches" (Kelley Lovelace, Ashley Gorley, Carrie Underwood)
10. "One of Those Boys" (Anthony Smith, Marla Cannon, Ben Carver)
11. "Funny Thing About Love" (Lauren Alaina, Luke Laird, Brett James)
12. "Dirt Road Prayer" (Nicolle Galyon, April Geesbreght)