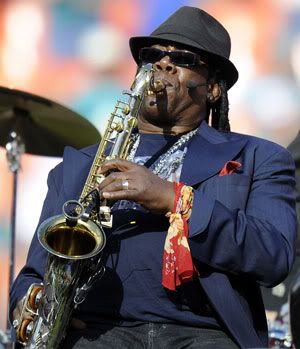 I don't know how I'm going to write this, other than with the aid of the glass of wine next to me and a belief that saying nothing isn't an option, not when someone who was such a part of something that has mattered so much to me left before we were ready to let him go.
I showered, shaved, and rode with my wife to a friend's house tonight. Without giving it much thought, I reached for a shirt to wear: my Bruce Springsteen 'Born To Run' t-shirt, the one I bought the last time I saw the band when they played the album in its entirety in Nashville.
An hour after we arrived, I got an e-mail from a friend telling me what the rest of the world was just learning: Clarence Clemons passed away at age 69, dying from complications from a stroke he suffered last week. It didn't hit me until minutes later when I looked down and saw Bruce and Clarence's face on my shirt. What composure I had nearly evaporated instantly.
The emotions are still raw and while I fancy myself a writer of some ability, my fragile ego won't allow me to think I'm going to say anything tonight someone else won't say better.
The first E Street Band show I saw came less than a week after founding member of the band Dan Federici lost his battle with melanoma. From that point forward, I would see a total of six E Street Band shows in four states, covering untold miles. There would have been a seventh but the Kansas City show was canceled after a Springsteen family member died of an apparent overdose that day.
I'm thankful tonight for those hours on the road spent chasing the magic, spirit, and joy of a music that holds a solitary place in my heart. I've never done anything like that for any other band and I doubt I ever will. The music of the E Street Band is special, sacred, and I will never hear it quite the same way again.
I will listen to those records again because they mean too much to me. I may one day listen to "Jungleland" and not get a huge lump in my throat, but it won't be tonight and it may not be for a long time. I can't listen to any of their music tonight. Some fans will; they'll laugh, cry, and comfort themselves with the memories. That day will come for me but it won't be tonight.
Clarence Clemons spent his life making music. He performed night after night on stage. He had multiple surgeries, in part to allow him to continue doing what he loved. He said in an interview the only time he didn't hurt was when he was onstage, calling it a healing place. He spent his life, giving. He played from his soul and he made beautiful sounds that carried powerful emotions in a language more powerful than words.
He gave so much and we happily received it, and tried to communicate our gratitude in applause and adulation. He gave more than we could return but I like to think he understood on some level just how beloved he was to millions across the world. So one more time, from just one of those lucky enough to see him doing what he did like no other, I'm saying thank you to the Biggest Man I'll Ever See. God bless you, Clarence. The streets of Heaven are a little more crowded and a whole lot more soulful. You touched us all. Thank you. Thanks for being you. Thanks for your gifts. Thanks for being there.