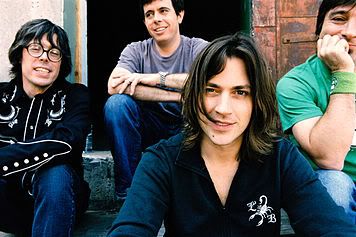 I "discovered" the Old 97s in 1999 through the brilliant album Fight Songs. It wasn't until the next year I started working through the back catalouge and it was another year before a friend and bandmate put their first studio album in front of me, 1994's Hitchhike to Rhome. And buried on that record at spot 13 is today's song in question.
What begins as a plodding two chord saunter quickly devolves into an upbeat, sweat drenched ramble about the end guy on the wrong end of being used in a relationship. In a mix of country backbeat, rocking guitar lines, and vocal harmonies, the Old 97s sing about heartache the only way they know how - like a train running off the tracks.
It my heart was a car, you would have stripped it a long time ago."
If this song is anything, it's the preamble to a really good argument which has been brewing for quite sometime. Our voice here sounds just as exhausted as it does angry. Thus, the opening stanzas are a tangled weave of disparate thoughts in which our voice references known history (about Texas, of course) with television programs ultimately comparing his sleeping (assumingly wayward) lover to thigns like a TV set inthe off position or a phone hung up on the receiver. This is supported by the realization that he's got nothing left to offer here but wants the chance to get it all out.
You were sleeping next to me, I might as well have been alone"
The chorus bounds along followed by one of the 97s trademark guitar solos where the entire band seems to go in a speed trance where they emerge even more fretted. And then the crescendo. There's a distance here and our voice is tired. Tired of the distance, tired of whatever is causing it, and is desparate to get it all out on the table and get to the end of this.
I ain't talkin' bout tomorrow, I'm talkin' 'bout tonight
You told me you were drunk already, that don't make it right
You want at me, well, have at it, 'cause I'm in the mood to fight"
And what of the analogy? It really goes both ways. He knows his partner has little value for his emotions but in the same light, he holds a low esteem as well. He knows his heart is worth nothing and he doesn't assign blame for being done this way. Instead, our voice here is irritated that neither have come out and said it. Until now, that is. Because now it is all out on the table. And after this fight, it is indeed a long way back to El Paso.
You can find the music of the Old 97s on their website or on iTunes.