We're one week away from finding out which contestant will be crowned the champion of The X Factor USA's inaugural season garnering a $5 million recording contract with Sony Music and an "iconic" Pepsi commercial.
The final four kicked off the show with a "No Diggity" and "Shout" mashup and it looked like a Chris Rene show with his three friends as backup singers. He started it off and commanded the attention and spotlight the entire time. Josh looked so uncomfortable and was even reading lyrics off his hand!
Now we go through last night's performances and we're reminded that Simon Cowell hated everything Marcus Canty did, loves Chris Rene and thinks Melanie Amaro changed her life with "that note" in her Nina Simone song "Feeling Good."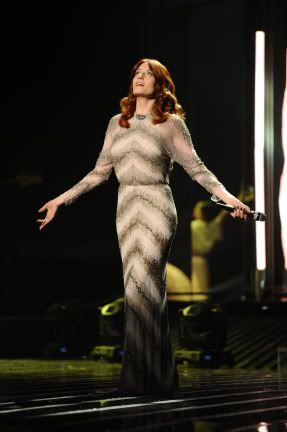 Florence + The Machine performed "Spectrum" from the recent release Ceremonials and Worthless Host Steve Jones tells Flo her voice is great; I'm sure she really appreciates that coming from a toolbox of a TV presenter.
After the judges telling us how wonderful their acts are and why they will win over the others, we get down to the nitty gritty and learn my number one favorite Chris Rene is first through to the Finals! My guy! Melanie Amaro is second through and we must wait for Worthless Judge Nicole Scherzinger to perform some song I don't care about because neither I, nor you guys, will buy it. She did her best Kelly Clarkson impression and failed miserably and that made it quite enjoyable, really.
Now for the most obvious moment of the show, Josh Krajcik is announced as the third and final contestant in the Finals show next week with Marcus Canty finally staying dead and going home; no more CPR for this kid's dream, they are DOA.
WHSJ asks Marcus the "how does it feel to have your dreams crushed…you were so close!" question that Marcus actually navigated like a pro.
There you have it: Chris Rene, Josh Krajcik and Melanie Amaro are in The X Factor finale and will perform for the final time, for your votes, on Wednesday December 21 on your local Fox affiliate. Who do you think will win, is your early favorite still here? I'll make my predictions next week, as well as have an interview with newest castoff, Marcus Canty.