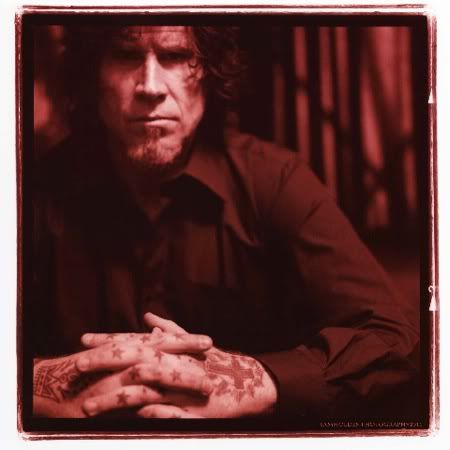 It looks like another streak will continue where my relationship with Mark Lanegan is concerned as he announces what amounts to perhaps his most extensive N. American tour as a solo artist in support of his excellent new album Blues Funeral.
It seems clear I'm never going to see one of my favorite vocalists of all time and a pillar in the Josh Hathaway Pantheon Of Eternal Musical Greatness because he's not coming anywhere near me on his 12-date run through N. America.
The tour kicks off on the East Coast in New York on May 10 and will hit small theaters and clubs throughout the US and Canada, making stops in Philadelphia, DC, Detroit, Denver, Chicago, and LA along the way. His native Pacific Northwest is also represented with shows Portland and Washington state.
If you live south of our nation's capital, you're pretty much out of luck unless you've got some of those frequent flyer miles. I, being the great homebody and recluse, have never accumulated a frequent flyer mile in my life, so there's that.
I'm not imagining any type of official live release from these shows but I'll cross my fingers anyway. I've heard some bootleg recordings some official, others not of acoustic shows he's done but these dates figure to find our hero once again fronting a full band. That's something I'd like to see. I'll settle for simply being able to hear a professional recording of it.
Thu-May-10-12 – New York, NY – Webster Hall
Fri-May-11-12 – Washington D.C. – 9:30 Club
Sat-May-12-12 – Philadelphia, PA – Theatre of the Living Arts
Sun-May-13-12 – Boston, MA – Paradise Rock Club
Tue-May-15-12 – Toronto, ON – Mod Club
Wed-May-16-12 – Detroit, MI – Small's
Thu-May-17-12 – Chicago, IL – Metro
Sun-May-20-12 – Denver, CO – Bluebird Theater
Tue-May-22-12 – Los Angeles, CA – Gene Autry Museum- Heritage - Courtyard
Wed-May-23-12 – San Francisco, CA – Great American Music Hall
Fri-May-25-12 – George, WA – Sasquatch!
Sat-May-26-12 – Portland, OR – Wonder Balroom