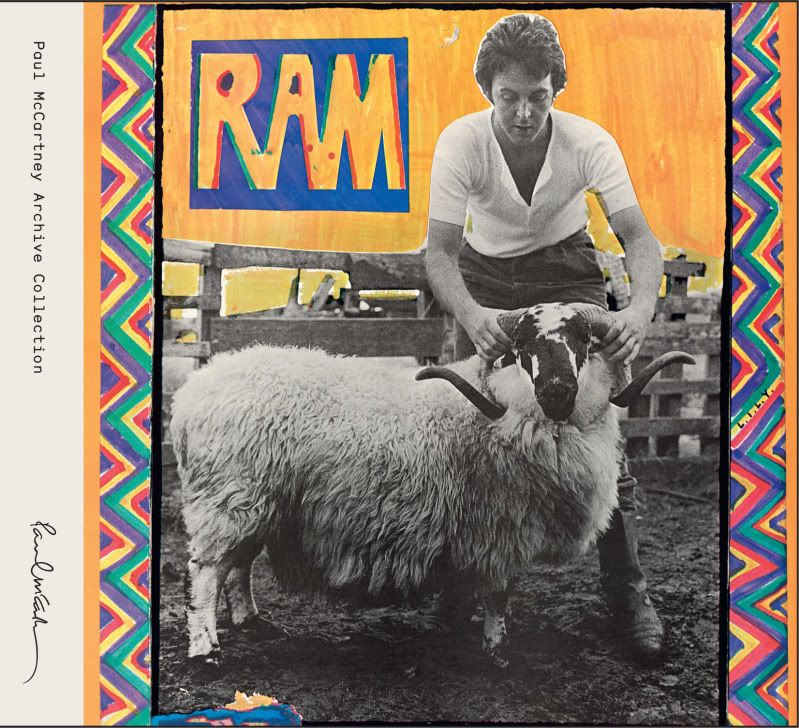 The Paul McCartney re-issue campaign continues and this time it is his 1971 album Ram that's getting the deluxe, remastered treatment and will be released May 22.
This is one I've anxiously awaited. I'm not alone in having a deep, abiding love for The Beatles and am probably not alone in being a little late to delve into the respective solo careers of the Fab 4, but I've indeed expanded my collection. Paul's solo catalog is easily the most voluminous and I held out buying more than a couple good compilations because one of the voices in my head told me an extensive re-issue campaign would be in the offing.
It took a little longer than I expected but it's started and I've acquired McCartney, McCartney II, Band On The Run, and now I'm excited to be adding Ram to the collection because some of my favorites from that old Wingspan compilation were originally released here.
As with those other re-issues I mentioned, Ram is getting issued in a variety of packages. Every medium except 8-track and cassette is being represented here so now all you have to do is determine your level of obsession and financial situation. Here are the options:
The Standard Edition includes is a single CD housed in digipak with the digitally remastered 12- track Ram album. The Special Edition includes the remastered album and an eight-track bonus CD including rarities, b-sides, and the non-LP hit single "Another Day."
Big spenders can tackle the Deluxe Edition Box Set which includes four CDs and 1 DVD. The first two CDs are the same as the Special Edition wwith the other two discs being comprised of a remastered mono edition of Ram and the Thrillington CD. Thrillington is an instrumental interpretation of Ram, arranged by Richard Hewson and released in 1971. There's also a vinyl and digital package being offered.
McCartney recently issued a new album Kisses On The Bottom, a collection of love songs and standards backed by jazz pianist Diana Krall and her band.