Tonight the first winner of The X Factor (USA) was crowned and America has spoken and chosen Simon Cowell's act Melanie Amaro as its champion. If you think I'm gracious or even partly excited for her, you're mistaken. It smacks of deceit and a fixed ending when the contestant Simon originally sent home and went back in a very dramatic fashion to fetch from her home in South Florida wins the entire competition.
Since I already let the cat out of the bag and you know the winner, let's traipse through the entire two-hour finale and see how we got here, shall we?
After a horrific group number with the Top 12 finalists, we get Melanie Amaro doing her very best Mariah Carey impression on "All I Want For Christmas," and we see messages from home that moved her to tears and rendered her momentarily speechless which is a shame because I was wondering if she was sporting her Caribbean accent or if that's just for vote getting.
Chris Rene gives us an early Christmas present with a soft and sweet version of "Have Yourself A Merry Little Christmas." He kept the integrity of the song, no rapping and it was a pure, solid performance. Simon told him the competition wouldn't be the same if he had not been in it and his mentor, LA Reid, said it's been an honor to work with such a solid man. We get an emotional package for Chris as well, showing his sister, brothers and his son telling him what he means to them. He responds by saying he's happy to be here wholly in the moment, present and able to receive this blessing. Have I mentioned I love this kid?
"Please Come Home For Christmas" by Bon Jovi is the perfect holiday song for Over 30s contestant Josh Krajcik, his rasp and depth of his voice is apparent and powerful tonight. The judges bestow love and compliments on him and Simon says that Josh is 30 and proof that you can't put an age cap on talent.
Justin Bieber performs a couple Christmas songs and I'm pretty sure we all know how this is going to end, don't we? First, the magical Stevie Wonder makes an appearance on keyboard and harmonica. Oh, there she is; Drew NoLastName gets called out on stage and is so awkward and overcome with excitement she barely gets the words "Santa Claus is coming to town" out of her mouth before acting like a total fangirl.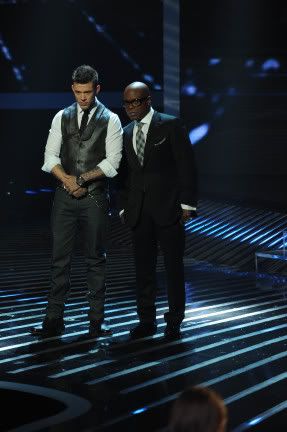 Back from commercial we learn Chris Rene is the third place finisher and it's not surprising but it's still sad and as Worthless Host Steve Jones so eloquently said, it's "weird." I will be YouTube-ing this later because I swear I saw Simon exhale with what looked like relief. Chris looked disappointed but it was only a brief flash across his face before he said he is honored to have come this far, and feels forever blessed to have been able to touch so many people's lives.
Former X Factor (UK) winner (Simon was her mentor, it's worth noting), Leona Lewis come out and reminds us we're watching amateurs and she's a real professional with the sweetest, honey-sweet voice.
Inexplicably, Derek Fisher of the L.A. Lakers comes out to introduce his good pal, 50 Cent whose first 60 seconds was more censored silence than any actual rapping. Right as I was drifting out of consciousness, young Astro comes out and trades verses with 50 like a seasoned pro. Pitbull and Ne-Yo are the next big stars to make it onto the stage tonight, they're joined by fourth place finisher Marcus Canty who fit right in with the big dogs and looked and sounded great.
Melanie and Josh duet on "Heroes" and while they individually sounded great, they weren't good together. I would have much rather seen the Chris Rene/Josh Krajcik version of this.
One commercial break from learning Melanie Amaro is our winner and I'm not sure what I'm more disappointed about, that she won or that Simon won. I'm also dreading seeing her doing the talk show rounds, her "iconic" Pepsi commercial and reviewing her album I'd otherwise not listen to. Essentially what we have going on here is that America got its Pia Toscano revenge. Pia was American Idol's "shocking elimination" last season and the bland voters of our fine nation have been seething ever since. They weren't going to let another ho-hum, vanilla balladeer make it out without the win.
Josj Krajcik finished in a noble second place, and that's a world away from the burrito slinging job he was suffering through prior to the show. I really like two out of three of these finalists and look forward to enthusiastically following Josh and Chris' journey to what I hope are long careers.
Congratulations to Melanie Amaro. She is X Factor season one's ringer who has been given a $5 million Sony music contract and the aforementioned Pepsi commercial as her prize. Please check back as I cover the first days of Melanie's career as a new winner and subsequent interviews, singles, and so forth of all of the contestants that are worth my time (and Melanie, too). It's been a great season, thank you for reading.