Miranda Lambert has a new girl band called the Pistol Annies and don't you dare call it a "side project." Lambert says it is "the main project" and totally separate from her solo career.
Miranda Lambert isn't approaching Pistol Annies' (original name idea "Calamity Janes" was taken by a stripper) as a side project and you can hear how seriously she's taking this collaboration with Ashley Monroe and Angaleena Presley on Hell On Heels. Angaleena and Miranda share songwriting credits and vocals with Lambert and also have sole writing credits on a couple songs while Lambert's husband country singer Blake Shelton lends his talent on one song, earning him the nickname "Pistol Andy." The trio has dubbed themselves Lonestar Annie (Lambert), Holler Annie (Presely), and Hippie Annie (Monroe).
Hell On Heels opens with the title track, which is also the first single from the album. I reviewed it last week and even though I've heard it about 30 times by now, I still love this siren call of hapless men.
"Lemon Drop" was written by Angaleena Presely before she hooked up with the Annies -- inspired by real-life events -- and opens with the line:
"My muffler's tied on with a guitar string,

I owe seven thousand dollars to a bank machine,

Before this car is ever really mine, But some fine day I'll drive her downtown,

Get a burger, fries and a Royal Crown,

Thankin' God that I'll never have to pay another dime"
It's something most of us could relate to even in better economic times but rings just a little truer in these tumultuous times and Presley brings it all home in the chorus. Whether it's a poor college student, underpaid at an entry-level job, a new parent, or just someone who feels like nothing good has or ever will happen to them, "My life is like a lemon drop, I'm sucking on the bitter to get to the sweet part, I know there are better days ahead" appeals to us all. It's also light, fluffy, and fun to sing along to.
"Beige" changes the pace a bit, a song about a seemingly young girl and a shotgun wedding. Monroe's sweet, baby bird voice and slow, deliberate delivery breaks my heart every time I listen.
The Annies quickly change direction once again, following the heartbreaking "Beige" with the hellraising "Bad Example." They come out swinging in the first verse with:
"Somebody had to set a bad example,

Teach all the prim and propers what not to do,

Nobody 'round here wants to ramble,

What the hell, that's what I was born to do"
It's a great opening salvo and conjures memories of girls like this you grew up with, or maybe it's a glimpse back into your own rebellious period. We even get a reference to a "Honk If You're Horny" bumper sticker, which frankly should be in more songs.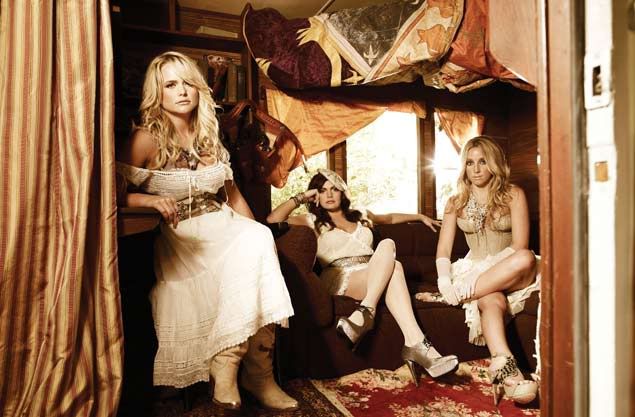 "Hunter's Wife" is another Presely original and the opening line was inspired from sheer desperation as her relationship was ending and divorce was imminent. "I've been thinking about setting my house on fire, Can't see a way out of the mess I'm in, And the bills keep gettin' higher, All I need is a match and a gallon of gas, God, I'm gettin' tired, Gonna set this house on fire" finds Angaleena at about as low a place as someone can be; similar to "Lemon Drop" it's a very honest, raw glimpse into a private time many of us have experienced to varying degrees.
"Takin' Pills" is next and it's hilarious despite being about a white trash woman with a Prozac addiction. The ladies also give shout outs to their home states of Texas, Tennessee, and Kentucky, respectively. All three have parts in this one and I like the songs where they sing as three lead singers a little better than the ballads with one lead voice and two backup singers.
"Boys From The South" is an ode to those sexy, shirtless, Southern boys we all love but not all of us admit to. I think of it as a country "California Girls" as the girls tick through Georgia, Texas, Alabama, Kentucky, Arkansas boys and their fine attributes before finally deciding, "Man, I think I might just have to love them all, The boys from the South."
"Trailer For Rent" is penned by Lambert and it's the first time we hear her alone, which is a bit refreshing because as much as I love the other two girls and adore them as a trio, this is a song where she shines and shows us who the star really is. Closing out this quick 30 minute disc is "Family Feud," which is where Lambert's husband Blake Shelton chipped in and earned his Honorary Annie title. Judging by the title, you'll assume it's another jokey, quick-paced song when it's actually a heavy song about when a family member passes away and everyone's worst sides and true colors tend to come out:
"Fine China stacked by the kitchen sink,

Aunt Tammy's in there, claiming all the diamond rings,

Uncle Bobby's loading up the TV set,

Only thing they're grieving over's what they ain't gonna get."
The album has a salon feel and each lady contributed and gave of herself fully. This is one of the most solid debut efforts I've heard in a long time with strong, seasoned songwriting and gorgeous singing, whether as soloists or in harmony. It's also a conicse record, clockingin at 30 minutes with no song exceeding four minutes. Hell On Heels is the perfect record to put on in the car; just be prepared to keep hitting repeat.