The Ghost You Gave to Me is one of the most diverse, stimulating, enjoyable pieces of music I've heard in quite some time. This, the sixth recording from 3, is a glorious and gleeful webbing of '80s rock, technical progressive stuff, metal riffs, dance music goodness, and the notorious kitchen sink.
Indeed, the Woodstock-based band fiddles with so many musical elements here that it probably shouldn't work. But some exercises of sonic hedonism and keen copiousness do, in fact, produce results that are altogether awesome.
3 is considered an "American hybrid band" by the illustrious Wikipedia, which cites vocalist and guitarist Joey Eppard's MySpace page as its source. Fair enough. That's probably the most apt descriptor that I could think of, although exactly what 3 is a hybrid of is up in the air.
Founded in 1994 as a three piece (Eppard, Joey Eppard on drums, Chris Bittner on bass), 3 was signed to Universal Records in 1998 after getting the attention of the label via live performances. Unfortunately, the shittiness of the music biz proved a grim hindrance and their debut album was in a holding pattern until the band finally decided to release it on an indie label instead.
Now, the band boasts a different line-up (Eppard, Billy Riker on guitars, Chris Gartmann on drums, Daniel Grimsland on bass) and a history of opening for some serious bands on the road, including the Scorpions and Porcupine Tree. The mesh of prog and 80s rock is apparent on The Ghost You Gave to Me, out now thanks to Metal Blade Records.
Perhaps the most fascinating element of the album, at least to me, is the vocal performance from Eppard. His tones are startling in depth and range, as he manages to needle an exquisitely feminine slant at times. His upper registry is immaculate and he blends with the music in a way that smartly matches the scaling, spiralling guitars. Those searching for more virile, raucous tones are best advised to listen elsewhere.
At first, the impression of Eppard's vocals and the band's noodling can give the impression that 3 is holding back. But as The Ghost You Gave to Me rolls along, it becomes swiftly apparent that these cats are leaving nothing to the imagination.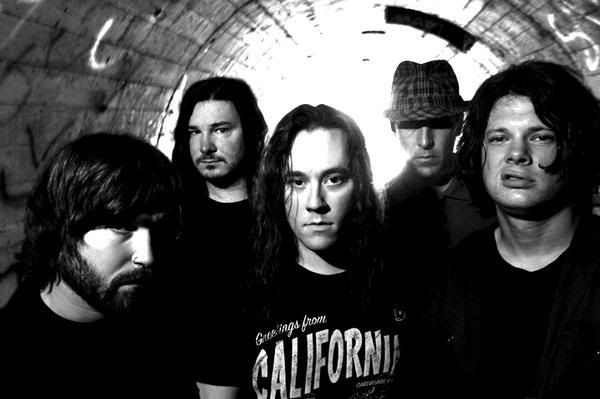 "Pretty" offers a dance floor groove under chugging metal guitars and Eppard's slender vocals. The tempo shifts are sturdy and the band's precision attack through the chorus is just bloody great. And then there's the triumphant, folkish vibe of "One With the Sun," a lavish track that features some acoustic leadership and a sort of beautiful 70s hippie expansiveness that just feels right, man.
Cuts like "Sparrow" and "It's Alive" up the rock quotient with some diabolical riffing. On the latter, Eppard's vocals get as punitive as they've been thus far, but he still maintains a somewhat placid, wondrously feminine air.
The Ghost You Gave to Me is prog for thinking music fans. Those who like their rock in transparently tangible categories with sanitized suburban sorrow probably won't appreciate the wealth of what's going on here, but open-minded folks with generous ears will feast ravenously on the stores of pure magic lurking behind door number 3.