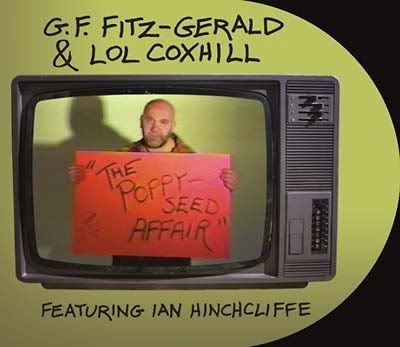 G. F. Fitz-Gerald & Lol Coxhill's The Poppy Seed Affair is a triple-disc package filled with inspired DIY creativity. The Poppy Seed Affair itself is a 30-minute DVD filmed in 1981. Featured in the movie are The Matchbox Purveyors, Ian Hinshcliffe, Jeff Nuttall, Mark Long, and Foxy.
The film is a stream of conscious take on life, which basically makes no literal sense at all. The quality is not quite IMAX level, as it was filmed on the fly some 30 years ago. In addition to Coxhill, the soundtrack features Robert Wyatt and Archie Leggett. It is a charming slice of British absurdity, and definitely worth seeing at least once.
In addition to the DVD, the set contains two CDs from the pair. The first features them playing live at Newcastle's Spectro Arts Workshop in 1981. True to form, none of the six improvised tracks are titled. They are separate songs rather than arbitrarily placed edits in a long jam however. It is surprising just how much sound can be generated solely from Fitz-Gerald's guitar, and Coxhill's soprano saxophone.
The second CD is even more extreme. We begin with "Listen Collage," a 20-minute audio-verite excursion reminiscent of John and Yoko's Two Virgins. Next up are "Fractal One," and Fractal Two," which feature some wild effects interspersed with prepared guitar. Prepared guitar presumably refers to objects embedded in the strings, as it does with prepared piano. In any event, the sounds are otherworldly.
Continuing on their avant-garde way, "Band In My Head" is a tape-loop extravaganza. The final track in the collection is the soundtrack to the Matchbox Purveyors' stage show The Team.
The Poppy Seed Affair contains a wealth of musical experimentalism, as well as a take on things that borders on the absurd. Much of it is charmingly anachronistic, and fascinating as well. The set has been issued as a numbered limited edition of 500.