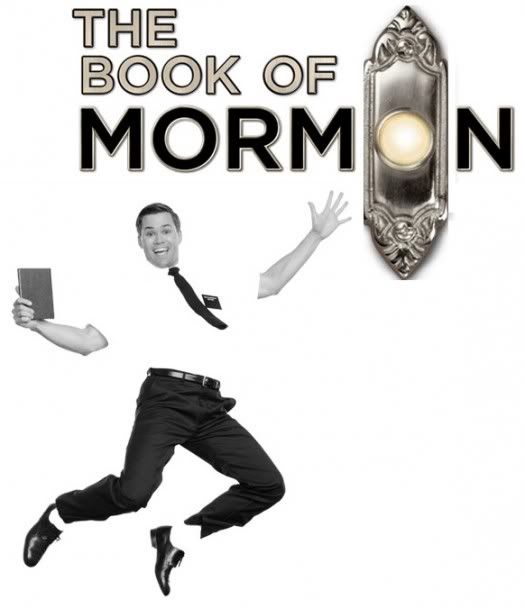 Greetings from the best city in the world – Manhattan! I paid $24 for a bottle of wine that retails in most cities for $6 (and which I believe can remove paint from walls) and I just had the privilege of experiencing the most amazing musical this theater buff has ever seen.
The brainchild of South Park's Matt Parker and Trey Stone, The Book of Mormon is snort-laugh funny. Jokes about Orlando, Fl, Bono, and the Book of Mormon turned into Star Wars – you had me at "Hello" (that's a joke about the production's opening number).
The production is the comic story of two young Mormon missionaries serving their missions in Uganda. Elder Kevin Price (Andrew Rannells) is everything you could want in a wide-eyed believer. Coupled with his companion Elder Arnold Cunningham (Josh Gad) – you have a pretty dynamic straight guy/funny guy routine. Gad is a physical comedian to the likes of Belushi and Farley, and the quirky dynamic between he and Rannells is fantastically funny. No really – to those in attendance at the show on 8/25, I was the girl snorting in the back of the theater. Sorry.
The theater girl is boring you with her talk of characters and such – sorry. Onto the music, since that's what we're about here at BBS. I went in not expecting much because, well, Parker and Stone are famous for making cartoon characters curse (and for animating a singing poo). But I was blown away at how great the music really was. Sure it's funny, but it's also classic musical songwriting – catchy bridges and choruses, key changes, harmonies- dare I say a medley. I learned via the ever reliable playbill that Stone and Parker co-created the music with Robert Lopez, who co-wrote and composed the equally hilarious Avenue Q. It's all starting to make sense now.
And I'm not the only one noticing The Book of Mormon. The production opened on Broadway in March of this year and the soundtrack was released in May and became the highest-charting Broadway cast album in over four decades, reaching #4 on the Billboard Charts. Oh, and then there's the nine Tony Awards that the production won.
If you love music, love theater, love to laugh, question religion, love religion, or are simply looking to love every second of several hours – go see The Book of Mormon. "I Believe" that it will not let you down.
Yours Truly,
Sister Stephanie