There's a moment toward the end of the dance track "You Really Started Something" where R&B legend Luther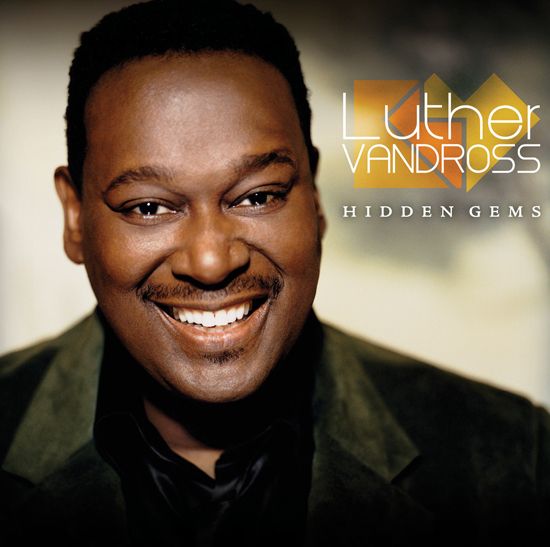 Vandross performs his trademark vocal runs. As he begins, he demonstrate the full range of his voice, transitioning from a low rumble to a transcendent high note. In between he softly laughs, clearly enjoying showing off his talent. Indeed, Vandross established himself as a consummate singer and interpreter during his all-too-short life, and his sheer joy of music and vocalization always shined through in his recordings. Some of these lesser-known tracks, culled from movie soundtracks and studio albums, have been compiled into a new collection, Hidden Gems. Vandross completists will find Hidden Gems a convenient way to collect rare material, although fewer album cuts and more non-album tracks (e.g. B-sides, import-only, outtakes, and alternate mixes) would have made the compilation more desirable.
Certain songs represent "shoulda been" hits, such as "When You Call on Me (Baby That's When I Come Runnin')," a bonus track from his 1997 greatest hits disc One Night with You: The Best of Love, Vol. 2. An atypically sweet and tender R. Kelly composition, it features a memorable chorus and lyrics tailor-made for Vandross' gentle vocals ("Now I lay me down to sleep and hope that heaven hears my heart/ Send me someone right now"). His excellent 1982 album Forever, for Always, for Love contains many unappreciated tunes, and one is included here: "Once You Know How." Its unusual chord changes and simple yet effective Vandross vocal all add up to a choice example of 80s R&B; of course, the singer became one of the leaders of the era. "You Stopped Loving Me" is another standout, a midtempo track off his still-impressive 1981 major label debut Never Too Much.
Some pleasant but largely unmemorable soundtrack excerpts also abound, including "The Thrill I'm in" from the 1995 flick Money Train and "Heart of a Hero" from the 1992 film Hero. The latter bows to Vandross' church roots, with Vandross backed by a gospel choir. When he croons the lines "Someone above keeps sendin' us love/ He wants us to love each other/ You see, the more we give, the better we live," he makes the listener believe in every word.
Hidden Gems also sheds light on his underrated self-titled 2001 album, namely that the disc contains some strong near-hits. "I'd Rather" represents some of Vandrosss' best work, a lovely ballad that showcases his ability to transcend even the most cliched lyrics. Sure, it's a seemingly typical love song, yet when Vandross gently sings "I'd rather have bad times with you, than good times with someone else/ I'd rather be beside you in a storm, than safe and warm by myself/ I'd rather have hard times together, than to have it easy apart," he lingers over every word, carefully considering each word's significance. Why this did not become a hit on the scale of "Here and Now" remains a mystery.
By the time the album ends with the aforementioned song "You Really Started Something," the listener understands why Vandross was such a unique talent and to this day is imitated, but never equaled. Casual fans may only be interested in the hits, but longtime fans will find much to enjoy on Hidden Gems, and will find it an interesting if incomplete addition to their Vandross collection. Now if only someone would only reissue another lost treasure: the gorgeous ballad "There's Only You" from the 1987 film Made in Heaven.