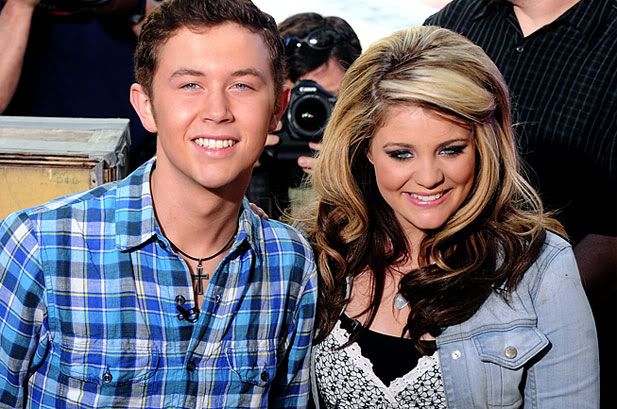 The wait is almost over, kids! Scotty McCreery and Lauren Alaina have announced release dates for their debut, full-length albums and they are a week apart. Have I mentioned these two seem to do everything in tandem?
Scotty's album is titled Clear As Day and will be out October 4, just shy of his 18th birthday. Lauren's debut effort Wildflower will be out the following week, October 11.
Scotty is working with mega-Producer Mark Bright, who has produced music for Carrie Underwood, Reba, and Rascal Flatts, just to name a few. Bright also produced Scotty's post-Idol coronation single "I Love You This Big" and says of Scotty: "His voice is shockingly great. Everybody knows Scotty has a deep voice, but what a lot of people don't know is that he has a pretty high range. His listeners will get to hear the nuances, emotions and actual range of his voice."
Lauren is getting similar help from a heavy hitter on Wildflower with Tim McGraw and Faith Hill producer, Byron Gallimore. It's already been revealed one of the singles will be "She's A Wildflower," which was the inspiration for the album's title.
Both albums will be released through Mercury Nashville/19 Recordings/Interscope records and despite their young ages, they say there is an older country feel to each of their records, Scotty citing Hank Williams, Merle Haggard and Conway Twitty as influences. Lauren is a little more specific saying there is up-tempo and sentimental ballads on her record which she hopes will translate to something for everybody.
Scotty ups the ante a little with a pre-order fan pack available through his website and includes the album, poster, and autographed photo of Scotty as well as an instant download of his hit single "I Love You This Big" which is currently at number 17 on Billboard's country songs chart.
Check out the videos for their first two singles: Scotty's "I Love You This Big" and Lauren's "Like My Mother Does."
I'm admittedly more excited for Scotty's album but, Lauren has proven she can surprise and I'm looking forward to what each brings to us in what I'm sure will be their first of many country albums.