Man I was mean but I'm changing my scene and I'm doing the best that I can…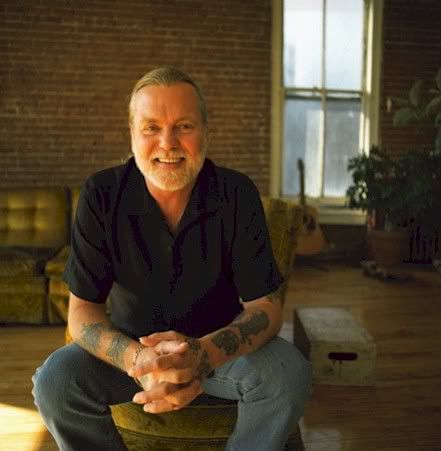 This week we give the Blues Radio Report a little different spin. Rather than showing you the tops of a couple charts, I'm giving you the Top 50 according to Roots Music Report. The reason? There are some really good albums we haven't talked about in awhile and in some cases some we've yet to discuss that fall below my usual cutoff point. We'll start at the top where Gregg Allman's Low Country Blues continues its reign but then we're looking at some of those other gems.
I'm thrilled to see Rich Del Grosso and Jonn Del Toro Richardson's Time Slips On By making a major surge this week and glad to see Damon Fowler's Devil Got His Way continues its upward trajectory. Boulder's own Big Head Todd & The Monsters have been participating in the Robert Johnson Centennial celebration and their latest album makes its debut in the Top 10 this week.
Let's skim the rest of our chart here and highlight a few albums that have been out a while you may have missed: I'm particularly gratified to see Chris James & Patrick Rynn's Gonna Boogie Anyway getting an uptick in radio play. I get the sense too many of you missed this one and it was one of the best blues releases last year and that is saying something because 2010 was stacked. If you care about great ensemble Chicago blues, this is a record for you.
Duke Robillard's Passport To The Blues is another record from last year that is just phenomenal. Passport is Duke's return to pure blues but I get the sense too many of you may have missed this even though it spent time higher in the charts when it was released. The same holds true for Peter Karp & Sue Foley's brilliant He Said She Said. It hit #1 on the charts last year and actually finished in the Top 5 for the year but it got shut out at the BMAs as well and that's criminally negligent. If you care about little things like intelligent lyrics and great vocals, you should not let one more minute of your life pass before adding this to your collection.
The Sugar Prophets reached the finals of the 2011 International Blues Challenge. Their self-titled debut is available digitally at iTunes, Amazon, and CDBaby and the physical release will be making its way to online retailers soon. Sugar Prophets features former Kilborn Alley Blues Band harp ace Joe Asselin, who swaps his harmonica for a guitar as a member of SP. I keep meaning to download this one and I will as soon as I whittle down the stack of review material presently on my desk.
Here is your Top 50 Blues Albums According to Roots Music Report:
Gregg Allman - Low Country Blues
Roomful Of Blues - Hook, Line & Sinker
Buddy Guy - Living Proof
Charlie Musselwhite - The Well
Damon Fowler - Devil Got His Way
Studebaker John's Maxwell Street Kings - That's The Way You Do
Rich Del Grosso & Jonn Del Toro Richardson - Time Slips On By
Eric Clapton - Clapton
Eden Brent - Ain't Got No Troubles
Big Head Todd And The Monsters - Big Head Blues Club - 100 Years Of Robert Johnson
Popa Chubby - The Essential Popa Chubby
Sam Henry - Treme Soul -- New Orleans Gumbo
John-Alex Mason - Jook Joint Thunderclap
Reverend Raven & The Chain Smokin' Altar Boys - Shake Your Boogie
James Cotton - Giant
Ronnie Earl & The Broadcasters - Spread The Love
Kenny Wayne Shepherd Band - Live! In Chicago
Dave Specter - Spectified
Lynwood Slim & The Igor Prado Band - Brazilian Kicks
Lucky Peterson - You Can Always Turn Around
Claudette King - We're Onto Something
James Kinds - Love You From The Top
Rockin' Johnny - Now's The Time
Various Artist - Alligator Records 40th Anniversary Collection
Kenny Neal - Hooked On Your Love
Curley Bridges - Blues Piano Rama
Mel Brown - Love, Lost And Found
Johnny & The Motones - Nothin' To Lose
Elvin Bishop - Red Dog Speaks
Chris James & Patrick Rynn - Gonna Boogie Anyway
JP Blues - I Will Not Go Quietly
Pete Anderson - Even Things Up - Deluxe Edition
Rita Chiarelli - Sweet Paradise
The Delta Flyers - Sixteen Bars
Stoney Curtis Band - Cosmic Conn3ction
Sabrina Weeks & Swing Cat Bounce - Tales From Lenny's Diner
JW-Jones - Midnight Memphis Sun
Joe Louis Walker - Live On The Legendary Rhythm & Blues Cruise
Lucy Hammond - Proof
Magic Slim - The Essential Magic Slim
Devon Allman's Honeytribe - Space Age Blues
Boogie Bone - Pro-Bone-O
Muddy Waters - They Call Me Muddy Waters / Live At Mr. Kelly's - Remaster
Tower Of Power - Great American Soul Book
Duke Robillard - Passport To The Blues
The Sugar Prophets - The Sugar Prophets
Albert Castiglia - Keepin On
Whiteboy James & The Blues Express - Last Time Was The Last Time
Peter Karp / Sue Foley - He Said She Said
Honey Island Swamp Band - Good To You