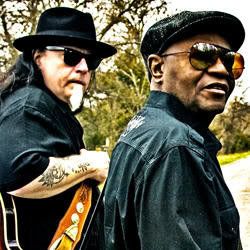 We could, should, and usually start at the top of the chart but this week we are looking at #20 where Smokin' Joe Kubek and Bnois King's Have Blues, Will Travel re-enters the chart. We start there because I say so and it pleases me to see this album getting more life. It was higher on the charts when released last year. It's good Texas roadhouse blues-rock.
We should also point to a couple new releases that have made their presence on the chart: Stony Plains Records' 35th Anniversary set featured previously unreleased music from slide master Robert Nighthawk, and those songs have been spun a lot the past week. Another Stony Plain release, Harry Man and Kevin Breit's Strictly Whatever, is also here.
So, what's up top? Marcia Ball and Gregg Allman. Sound familiar? It should. They're good records and they've owned the charts since their respective release.
Here are the Top 20 records at blues radio according to RootsMusicReport:
Marcia Ball - Roadside Attractions
Gregg Allman - Low Country Blues
Ben Waters - Boogie 4 Stu
Solomon Burke & De Dijk - Hold On Tight
Tab Benoit - Medicine
Tedeschi Trucks Band - Revelator
Hot Tuna - Steady As She Goes
Rita Chiarelli - Music From The Big House Soundtrack
Buddy Guy - Living Proof
Joe Bonamassa - Dust Bowl
Kelley Hunt - Gravity Loves You
Robert Nighthawk/Various Artists - 35 Years Of Stony Plain
Pete Anderson - Even Things Up - Deluxe Edition
Booker T. Jones - The Road From Memphis
Harry Manx & Kevin Breit - Strictly Whatever
Eric Clapton - Clapton
Roomful Of Blues - Hook, Line & Sinker
Tracy Nelson - Victim Of The Blues
Smokin' Joe Kubek & Bnois King - Have Blues, Will Travel