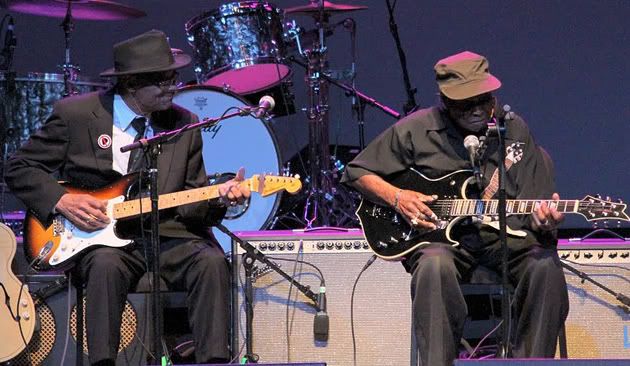 I don't know who or when, but someone will dethrone Gregg Allman from the top of the charts in 2011. I do love the record but I've run out of ways to say it's good and still #1 so we're going to drop that mention in and move on.
We talked about Sony Legacy's plans to re-issue Robert Johnson's recorded legacy in honor of what would have been his 100th birthday this year. The Johnson centennial has also inspired a tribute album and I finally picked up my copy of Big Head Blues Club's 100 Years Of Robert Johnson. The club is Big Head Todd & The Monsters featuring guests Honeyboy Edwards, B.B. King, Charlie Musselwhte, Hubert Sumlin, Ruthie Foster among others. I'm hoping to report back to you on this soon.
Congratulations are due to Gina Sicila, who enters our charts this week with her latest record. I'd also like to continue to champion the great recent releases from Damon Fowler as well as that from Rich Del Grosso and Jonn Del Toro Richardson.
Gregg Allman - Low Country Blues
Roomful Of Blues - Hook, Line & Sinker
Damon Fowler - Devil Got His Way
Buddy Guy - Living Proof
Rich Del Grosso & Jonn Del Toro Richardson - Time Slips On By
Sabrina Weeks & Swing Cat Bounce - Tales From Lenny's Diner
Big Head Todd And The Monsters - Big Head Blues Club - 100 Years Of Robert Johnson
Popa Chubby - The Essential Popa Chubby
Black Joe Lewis & The Honeybears - Tell 'Em What Your Name Is
Sam Henry - Treme Soul -- New Orleans Gumbo
John-Alex Mason - Jook Joint Thunderclap
Charlie Musselwhite - The Well
James Cotton - Giant
Eric Clapton - Clapton
Eden Brent - Ain't Got No Troubles
Roy Gaines And His Orchestra - Tuxedo Blues
Gina Sicilia - Can't Control Myself
Steve Grills - After Hours
Reverend Raven & The Chain Smokin' Altar Boys - Shake Your Boogie
Blues Dragon - Blues Dragon
James Kinds and JJ Grey & Mofro are the notables in the BluesMobile Top 15 that aren't in the RMR chart this week. Other than those, it's very similar once again.
Gregg Allman - Low Country Blues
Roomful of Blues - Hook, Line, and Sinker
Buddy Guy - Living Proof
Huey Lewis and the News - Soulsville
Big Head Blues Club - 100 Years of Robert Johnson
Eric Clapton - Clapton
G. Love - Fixin' to Die
Popa Chubby - The Essential Popa Chubby
Damon Fowler - Devil Got His Way
James Cotton - Giant
James Kinds - Love You From the Top
Various Artists - Alligator Records 40th Anniversary Collection
JJ Grey and Mofro - Georgia Warhorse
Big Shanty - Big Shanty Collection
Black Joe Lewis and the Honeybears - Scandalous