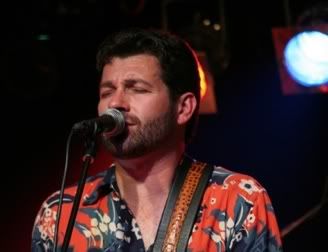 Okay, boys and girls, let's talk about blues radio and what the kids are listening to. Marcia Ball remains on top with the smash hit from Gregg Allman close behind. Tab Benoit's latest, Medicine, enters the Top 5 this week and Rory Block's tribute to Mississippi Fred McDowell enjoyed a huge surge in radio airplay on Roots Music Report's chart. It's also good to see soul-bluesman Johnny Rawls' Memphis Still Got Soul making a run up the chart this week.
As many of you know, I was at the BMA in Memphis earlier this month and a number of the fine artists on this week's chart were in attendance. I saw Derek Trucks accept a couple awards but didn't realize until later his bandmate (also happens to be his wife) Susan Tedeschi was there as well. Their new album comes out in June but it's already making noise at radio.
Steve Miller Band opened the show and played songs from Bingo! and its companion Let Your Hair Down, which is on the chart this week. I watched Eden Brent put on a show at BB King's on Beale St. and then wound up at her table later that night at the awards. It was a hell of a time and a hell of a collection of talent. The stories I could (but won't) tell you! Well, here is your Blues Radio Report for last week. Some great stuff and there are a slew of upcoming releases we'll be discussing and you can bet many will find their way here, too. Stay tuned!
Marcia Ball - Roadside Attractions
Gregg Allman - Low Country Blues
Solomon Burke & De Dijk - Hold On Tight
Big Head Todd And The Monsters - Big Head Blues Club - 100 Years Of Robert Johnson
Tab Benoit - Medicine
Ben Waters - Boogie 4 Stu
Buddy Guy - Living Proof
Joe Bonamassa - Dust Bowl
Hot Tuna - Steady As She Goes
Johnny Rawls - Memphis Still Got Soul
Tracy Nelson - Victim Of The Blues
Chris Bergson Band - Imitate The Sun
Suzie Vinnick - Me N Mabel
Tedeschi Trucks Band - Revelator
Ben Prestage - One Crow Murder
Kelley Hunt - Gravity Loves You
Terry Quiett Band - Just My Luck
Roomful Of Blues - Hook, Line & Sinker
Pete Anderson - Even Things Up - Deluxe Edition
Eden Brent - Ain't Got No Troubles
Eric Clapton - Clapton
Carlos Del Junco & The Blues Mongrels - Mongrel Mash
JJ Grey & Mofro - Georgia Warhorse
The Steve Miller Band - Let Your Hair Down