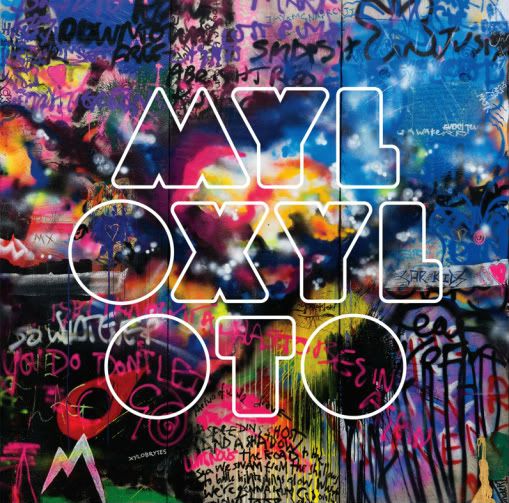 I'm a little slow in getting to this but we're very excited about the new Coldplay record Mylo Xyloto, due in stores in the US on October 25 (Oct. 24 in the UK).
The band released the first single "Every Teardrop Is A Waterfall" last month and began playing the song live in festival appearances but kept mum on the new record until now. Even now, there are still many details yet to be announced. The only songs we know for sure will be on MX are "Teardrop" and the next single "Paradise," which will be released Sept. 12.
We have heard two additional songs culled from the MX sessions: "Major Minor" and and "Moving To Mars." Both songs were issued as part of the "Teardrops" EP and according to a Billboard interview, "Major Minor" is a strong contender to make the final album while "Mars" may not.
The album was produced by Markus Dravs, Daniel Green and Rik Simpson, with assistance from Brian Eno. Eno produced the band's critically acclaimed Viva La Vida, which sold nearly 3 million copies in the US.
It's pretty much standard that new releases are offered in a bevy of packages and Xylo Myloto is no exception. The album will be released in digital, CD and vinyl formats. A special limited edition Pop-Up Album version will also be available, which will include a 12" x 12" hardback book containing graffiti pop-up art designed by David A. Carter, vinyl, CD and exclusive content including photographs, excerpts from the studio diary and the band's personal notebooks.
Pre-orders have not yet begun and we don't have pricepoints for any of this but as soon as we have a confirmed tracklisting or any additional information, we'll pass it on to you. In the meantime, check out the band playing "Every Teardrop Is A Waterfall" at Lollapalooza: