Coldplay's Mylo Zyloto is one of 2011's most anticipated records and the band confirmed the full tracklisting for the 14-song album due in stores Oct. 25 while also releasing a second single from the upcoming set via digital retailers.
In addition to the new tracklisting, Coldplay announced the release of a second single from the album, "Paradise" and also revealed that Rihanna provided vocal assistance to the track "Princess of China." It's not the first time Coldplay has worked with high-profile artists who might be considered outside the scope of the band's sound. Rapper Jay-Z contributed rhymes to a (terrible) re-working of "Lost" from Viva La Vida and the band did a Christmas single with Kylie Mingoue (which I thus far refuse to listen to).
Pre-orders for the album have begun and there are multiple configurations: CD, digital, vinyl, and a pop-up version of the record. The pop up version includes:
*A 64 page 12" x 12" hardback book containing graffiti pop-up art designed by David A. Carter.
*Exclusive 180-gram heavyweight graffiti-vinyl version of the album.
*Selection of stickers and stencils.
*CD version of the album.
*36" x 12" colour poster of the band's graffiti wall.
*Exclusive content including photographs, excerpts from the studio diary and the band's personal notebooks.
*MP3 version of the album delivered on 24 October.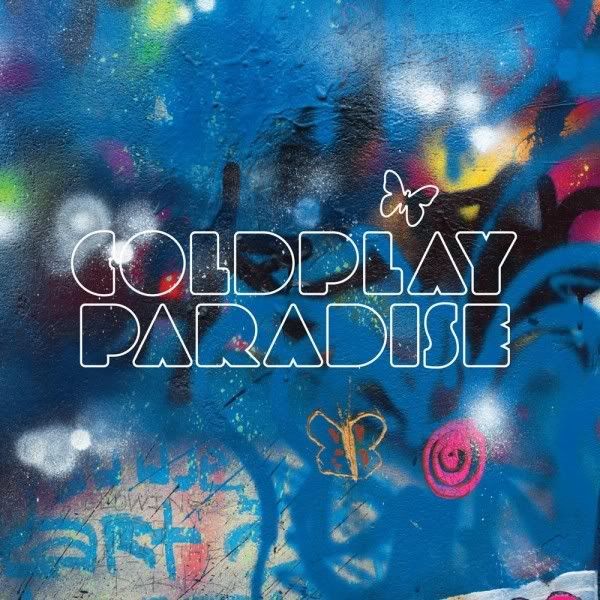 With the digital release of "Paradise" as the second single from the album, Coldplay fans now have access to three album tracks and one B-side. The "Every Teardrop Is A Waterfall" featured "Major Minus" (which made the final album) and "Moving To Mars" (which didn't).
I'm a sucker for a good deluxe edition of a record but I'll pass on the pop-art version and stick with my CD. I'm downloading "Paradise" right now and look forward to listening to it along with "Teardrop" and "Major Minus" as a way of getting a sketch of what the new record will sound like. The album was produced by Markus Dravs, Daniel Green and Rik Simpson, with assistance from Brian Eno.
Here's the full tracklisting for Coldplay's Mylo Zyloto
1. Mylo Xyloto
2. Hurts Like Heaven
3. Paradise
4. Charlie Brown
5. Us Against The World
6. M.M.I.X.
7. Every Teardrop Is A Waterfall
8. Major Minus
9. U.F.O.
10. Princess of China
11. Up In Flames
12. A Hopeful Transmission
13. Don't Let It Break Your Heart
14. Up With The Birds