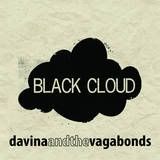 Davina & The Vagabonds are set to release their latest album Black Cloud June 21 through Roustabout Records.
Black Cloud will be the Minneapolis-based band's first album of all originals, which may not seem an impressive feat until you consider they've been playing over 300 dates per year for the last five years. You try finding time to write and record an album of all-new material on a schedule like that!
The band is led by vocalist Davina Sowers, who plays piano, organ, and ukulele. She also wrote all the songs for the album. She is joined by her band The Vagabonds: Michael Carvale on upright bass and cello, Connor McRae on drums and percussion, Darren Sterud on trombone and Dan Eikmeier on trumpet.
The full tracklisting has not been released but will include instrumental track "Vagabond Stomp," "Start Running," "Sugar Moon," "Lipstick and Chrome," "Push Pin," "Crosseyed," "Carry Him with You," and the title track "Black Cloud."
Check out a full preview of the album and stay tuned for more details about Black Cloud: