It's been awhile since we last checked in with the world's largest digital music retailer and it turns out not much has changed since: you are all still crazy about Adele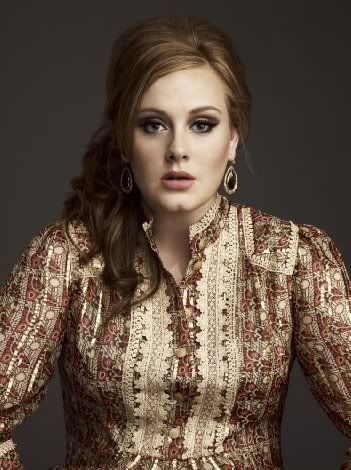 and her 21 record and I'm still not. The UK singer has three songs in the Top 10 Singles and both her albums are in the Top 10 on that chart. You've all gone all in on her and I'm still on the outside looking in on this phenomenon.
Elsewhere, the passing of Whitney Houston has given the late, great vocalist the inevitable chart spike and we're sure to see more of that in the coming weeks. Houston's brilliant vocal performance of Dolly Parton's "I Will Always Love You" is a Top 5 single and her greatest hits package is #2 this week on the albums chart.
It's fun to see the Van Halen (almost a) reunion album A Different Kind Of Truth getting some download love because in spite of a few flaws, I kind of love the record. Maybe it's the midlife crisis kicking my bitchass but it's kind of awesome to hear David Lee Roth fronting his band and Eddie Van Halen peeling off those double-tapping extravaganzas as only he knows how.
A daft album title didn't stop people from buying Sir Paul McCartney's Kisses On The Bottom, a collection of love songs released just in time for Valentine's Day.
Coldplay didn't wow Grammy viewers with their duet with Rihanna but Mylo Xyloto continues to do brisk download business. J and 11 both liked it. I spent time with it this past week and I can't hear it without thinking about the ways Viva La Vida was better.
See below for the complete Top 10 Singles and Albums according to iTunes Music Store for the week ending Feb. 13, 2012.
Top Songs:
"We Are Young (feat. Janelle Monae)" - Fun

"Stronger (What Doesn't Kill You)" - Kelly Clarkson

"Set Fire to the Rain" - Adele

"I Will Always Love You" - Whitney Houston

"Sexy and I Know It" - LMFAO

"Turn Me On (feat. Nicki Minaj)" - Nicki Minaj, David Guetta

"Someone Like You" - Adele

"Give Me All Your Luvin' (feat. Nicki Minaj, M.I.A.)" - Madonna

"Rolling in the Deep" - Adele

"Rack City" - Tyga
Top Albums:
21 - Adele

Whitney - The Greatest Hits - Whitney Houston

Scars & Stories - The Fray

A Different Kind of Truth - Van Halen

Mylo Xyloto - Coldplay

Kisses On the Bottom - Paul McCartney

Born to Die - Lana Del Rey

Stronger - Kelly Clarkson

Home - Dierks Bentley

19 - Adele