I mentioned being a holdout on Adele last week on New Music Tuesday. People raved over her debut and their raving about the follow-up to it.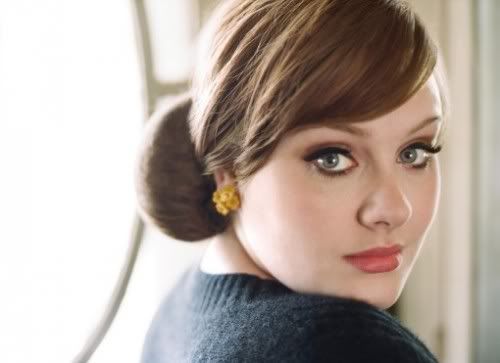 I'm going to have to sit down and listen to some of this and figure out what, if anything, I'm missing because this week's iTunes Chart Watch seems like it's trying to tell me something; she has a Top 10 single and both of her albums are in the Top 5. The US is going all in on this UK songstress. I don't know if I'll join but this merits taking the time to think about it.
Lady GaGa is going to have a stranglehold on that #1 position on single for the foreseeable future. I had no idea J-Lo had a new single, what with her doing the do on American Idol this season. TheWifeToWhomI'mMarried would be disappointed if I didn't tell you what she said about Ke$ha the other day when her name cropped up in conversation: "she needs a bath."
On the album's front, Mumford & Sons and Justin Bieber are sandwiched between Adele's pair of records. Florence + The Machine have leapt back onto the chart this week; I'm looking forward to seeing them open for U2 in Nashville this summer. Also on this week's album chart are Rihanna, something called Patrick Stump, and Eminem.
iTunes' top 10 selling singles and albums of the week ending Feb. 28, 2011:
Singles:
"Born This Way" - Lady GaGa
"Forget You" - Cee Lo Green
"On the Floor (feat. Pitbull)" - Jennifer Lopez
"S&M" - Rihanna
"E.T. (feat. Kanye West)" - Katy Perry
"Rolling In the Deep" - Adele
"I Need a Doctor (feat. Eminem & Skylar Grey)" - Dr. Dre
"F(asterisk)(asterisk)kin' Perfect" - P!nk
"Blow" - Ke$ha
"Grenade" - Bruno Mars
Albums:
21 - Adele
Sigh No More - Mumford & Sons
My World 2.0 - Justin Bieber
Never Say Never (The Remixes) - Justin Bieber
19 - Adele
Loud - Rihanna
Lasers - Lupe Fiasco
Truant Wave - Patrick Stump
Lungs - Florence + The Machine
Recovery - Eminem