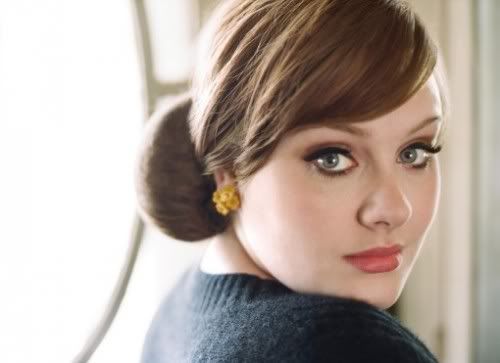 Adele's 21 is back on top of the Albums Chart at iTunes and it looks like it will retain the #1 slot at Billboard as well. It's been remarkably well received in the US and UK and is showing no signs of losing any steam. I'm surprised and disappointed to see Foo Fighters' Wasting Light has already fallen from the Top 10. It's such a good rock record. It sold well early on but can't understand why it would have falled beyond the Top 10 so soon after its release.
It's been awhile since Beastie Boys released new music and their first attempt was delayed by Adam Yauch's cancer diagnosis. We continue to with him well in his recovery and are very excited to see Hot Sauce Committee Part Two in the Top 10 this week.
American Idol has also made its impact on the chart, twice. The first is the collection of performances from the final five contestants. We're actually down to four as Jacob Lusk was eliminated and by tonight, we'll be down to three.
On the singles front, Adele is once again on top followed by the latest single from Lady Antebellum.
iTunes' top 10 selling singles and albums of the week ending May 9, 2011:
Albums:
21 - Adele
Hot Sauce Committee Part Two - Beastie Boys
Rumours - Fleetwood Mac
Helplessness Blues - Fleet Foxes
LOVE? - Jennifer Lopez
American Idol Top 5 Season 10 - Various Artists
Sigh No More - Mumford & Sons
In Your Dreams - Stevie Nicks
Musiqinthemagiq - Musiq Soulchild
This Is Gonna Hurt - Sixx:A.M.
Singles:
"Rolling In the Deep" - Adele
"Just a Kiss" - Lady Antebellum
"E.T. (feat. Kanye West)" - Katy Perry
"The Lazy Song" - Bruno Mars
"Where Them Girls At (feat. Nicki Minaj & Flo Rida)" - Nicki Minaj, Flo Rida, David Guetta
"On the Floor (feat. Pitbull)" - Jennifer Lopez
"Give Me Everything (feat. Ne-Yo, Afrojack & Nayer)" - Pitbull
"Just Can't Get Enough" - Black Eyed Peas "Judas" - Lady GaGa
"Blow" - Ke$ha
"Look At Me Now (feat. Lil Wayne & Busta Rhymes)" - Chris Brown