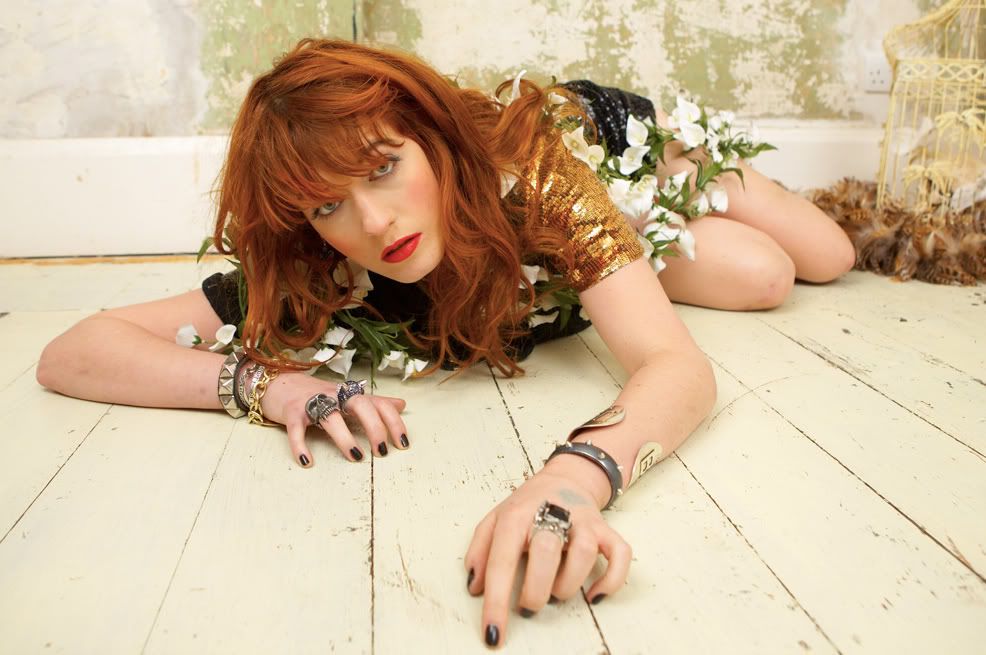 The iTunes Music Store is the #1 music retailer in the US, so let's take a look at what the world's biggest music store is selling the most of these days.
Two of the Top 10 Albums have been recently reviewed at Blinded By Sound, and both were praised mightily. I love Ceremonials from Florence + The Machine. Speaking of Florence, she's debuting a new video for "No Light, No Light" tomorrow and we'll hope to bring that to you. In the meantime, you can check out her video for "Shake It Off." 11 likes Coldplay's Mylo Xyloto quite a lot, although it doesn't quite reach the triumphant heights of Viva La Vida.
What else do we have? Ah, yes. Twilight. Everything that needs to be said about these movies and books was said on the season premiere of the newly returned Beavis & Butt-Head. My life is better for their return. I have an unofficial poll on the Michael Bublé Christmas album and it's been given a unanimous round of "Boooooo!" which surprised me. I knew I wouldn't like it, so I gave my copy to a friend. I was surprised by the verdict. Apparently some of you lot disagree, or bought it anyway.
Adele has been sidelined by throat surgery but that hasn't stopped singles from 21 from flourishing and a full recovery is expected. Nothing good ever happens to me. I'm kidding! Partially. I do wish her a full, speedy recovery. I also wish I liked her songs more or that they'd go away. Either would be fine with me. Neither is likely. Get well soon, Ms. Adele.
Speaking of won't go away: Rihanna. The only joy I take in her success is that some pundit with a single-digit IQ thought being the victim of a domestic assault would hurt her career. First off, that's offensive as hell on its face. Second, have you ever heard of Tina Turner? I don't think she's much of a singer and haven't enjoyed her songs (including the collaboration on Coldplay's new record) but every record she sells is another dagger in that prick's skull.
Here are iTunes' Official Music Charts for the week ending Nov. 14, 2011:

Top Songs:
"We Found Love (feat. Calvin Harris)" - Rihanna
"Sexy and I Know It" - LMFAO
"If This Was a Movie" - Taylor Swift
"Without You (feat. Usher)", David Guetta
"Ours" - Taylor Swift
"Someone Like You" - Adele
"Good Feeling" - Flo Rida
"It Will Rain" - Bruno Mars
"Moves Like Jagger (Studio Recording from "The Voice" Performance) (feat. Christina Aguilera) , Maroon 5
"Pumped Up Kicks" - Foster the People
Top Albums:
Blue Slide Park - Mac Miller
The Twilight Saga: Breaking Dawn, Pt. 1 (Original Motion Picture Soundtrack) - Various Artists
Mylo Xyloto - Coldplay
21 - Adele
Ceremonials - Florence + The Machine
Take Care - Drake
Christmas - Michael Bublé
The Lost Children - Disturbed
Formula, Vol. 1 - Romeo Santos
NOW That's What I Call Music, Vol. 40 - Various Artists