What a fantastic week for new releases! What a terrible week for me to be flat broke! It's tragic. There are so many cool discs coming out and all I can do is add them to my Wishlist.
The Beach Boys have reunited for their first album with Brian Wilson, That's Why God Made The Radio. This year marks their 50th Anniversary and all the surviving members of the band have together. Brian is the only Wilson brother remaining and he is joined by Mike Love, Al Jardine, Bruce Johnston, and David Marks.
There's another reunion this week, Neil Young has made his first album with Crazy Horse in nine years: Americana.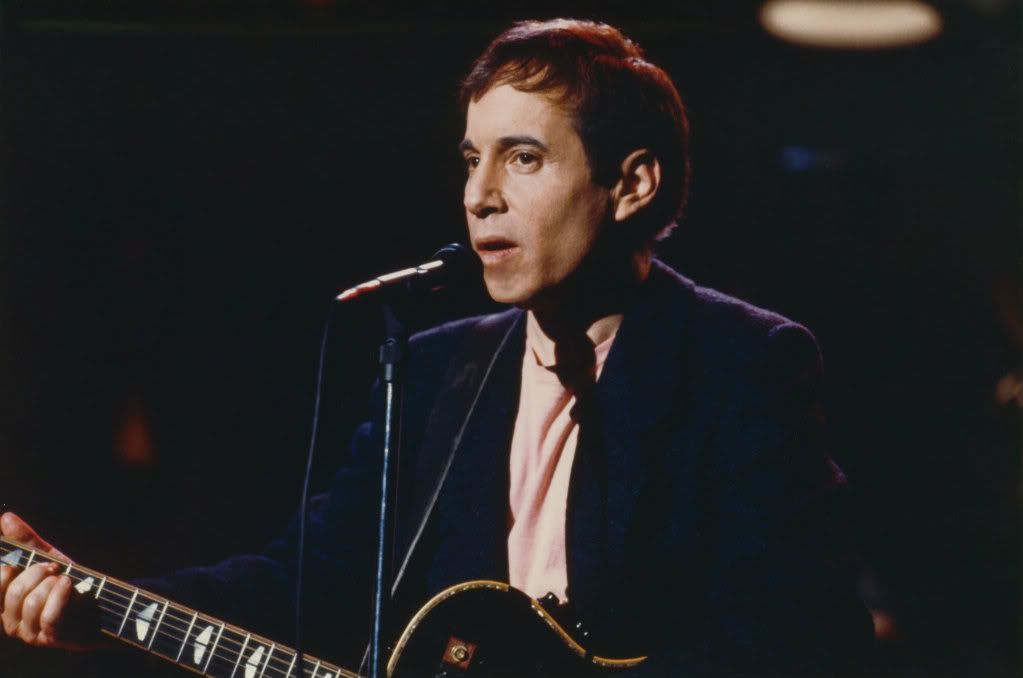 Paul Simon's landmark, Grammy-winning Graceland turns 25 this year and has been remastered for re-issue this week in numerous packages. The CD is accompanied by a documentary film about the album, its controversial origins, and the tour that followed called Under African Skies. I so need one of these.
Lil Ed & The Blues Imperials have their first album in four years in stores this wek, Jump Start. Lil Ed is the nephew of one of my favorites, J.B. Hutto, and he and his band are one of the premier blues bands on the planet. You are going to want to hear this one!
Brandi Carlile releases Bear Creek this week, the eagerly awaited album from the singer/songwriter. Our pal Stephanie has reviewed it and she's already working up a review of Rhett Miller's new album The Dreamer, which she's been previewing for us.
Singer/songwriter Shawn Colvin and former Eagles guitarist Joe Walsh each have solo albums out this week, both after having been away for awhile. Walsh's new set is called Analog Man while Colvin's latest for Nonesuch is called All Fall Down. Colvin is a favorite and I'm going to get around to scoring a copy of her album. I wish it was today.
Kids, there are even more treasures coming out this week and there are more in store for June. Take a peak and tell us what excites you this week!
1776 Band - 1776
Adair, Beegie/Jaimee Paul - After The Ball
Adaliah - Broken Families
Agonist, The - Prisoners
Akram, Omar - Echoes Of Love
Altars - Conclusions
Anhedonist - Netherwards
April Wine - The Nature Of The Beast/Power Play
Architects (Uk) - Daybreaker
Bamboos, The - Medicine Man
Beach Boys, The - That's Why God Made The Radio
Beatles, The - Yellow Submarine
Belleruche - Rollerchain
Benet, Eric - One, The
Beyonce - 4 (Deluxe)
Bischoff, Jherek - Composed
Black Music Disaster - Black Music Disaster
Black Shape Of Nexus - Negative Black
Black Sheep Wal - No Matter Where It E
Bowie, David - Rise And Fall Of Ziggy Stardust
Bromberg, Brian - Compared To That
Brueggergosman, Measha - I've Got A Crush On You
Bt - Laptop Symphony
Cage: The Works For Percussion 2 - Third Coast Percussion
Call Me No One - Last Parade
Call Me No One - Last Parade
Candlemass - Psalms For The Dead
Carach Angren - Where The Corpses Si
Cardiac Arrest - Vortex Of Violence
Carlile, Brandi - Bear Creek
Catamenia - The Rewritten Chapters
Chris Robinson - Big Moon Ritual
Cianide - A Descent Into Hell
Circus Maximus - Nine
Cory Smoot - When Worlds Collide
Curren$Y - The Stoned Immaculate
Curren$Y - The Stoned Immaculate (Amended)
Deride - The Void
Din Brad - Dor
Donockley, Troy - Messages
Douglas, Dave - Magic Triangle / Leap Of Faith
Eddy, Duane - Duane Eddy
Eths - Iii
Everly, Phil - Star Spangled Springer
Fania All Stars - Greatest Hits
Fates Warning - Inside Out - Expande
Fear Factory - Industrialist, The
Fear Factory - Industrialist, The (Deluxe)
Features, The - Wilderness
Float Face - Exitium Verum
Friends - Manifest!
Gates Of Slumbe - Suffer No Guilt
Generation Of - Howl And Filth
Germs, The - (Gi)
Gong - Electric Shiatsu
Googoosha - Googoosha
Grand Magus - Hunt, The
Grand Magus - Iron Will
Grand Magus - Wolf's Return
Grateful Dead - Dick's Picks Vol. 30 - Academy Of Music,
Grateful Dead - Dick's Picks Vol. 29
Grateful Dead - Dick's Picks Vol. 31 - 8/4-5 Philadelphi
Heart - Strange Euphoria
Heikousen - Parallels
Hives, The - Lex Hives
Hogan, Kelly - I Like To Keep Myself In Pain
Hopper, Brian & Fenner, Robert - Virtuality
Iamdynamite - Supermegafantastic
Jackson, Alan - Thirty Miles West
Jana Kramer - Jana Kramer
Japandroids - Celebration Rock
Jay & The Americans - Sands Of Time/ Wax Museum/Capture The Moment
Jennings, Waylo - Live From Austin Tx
Jorn - Bring Heavy Rock To The Land
Judge Smith - Orfeas
Justin Vivian Bond - Silver Wells
Karimloo, Ramin - Human Heart
Keen, Robert Ea - Live From Austin Tx
Kennedy, Bap - The Sailor's Revenge
Kent, Stacey - Dreamer In Concert
Kid Gorgeous - Blue Romance
Kravitz, Lenny - Mama Said (Deluxe Edition)
Kreator - Phantom Antichrist
Kreator - Phantom Antichrist (Deluxe Ed)
L.A. Guns - Hollywood Forever
Langhorne - The Way We Move
Lava Children - Lava Children
Lettuce - Fly
Liars - Wixiw
Lil C - H-Town Chronic 6
Lil Ed And The Blues Imperial - Jump Start
Lil G - Different Stilo
Lucas, Scott - Blood Half Moon
Luis Miguel - Romance: 20Th Anniversary (Deluxe Edition)(W/Vinyl & 3 7" Vinyl Singles)
Mair, Amanda - Amanda Mair
Manipulator - Voidbound
Marduk - Serpent Sernon
Marilyn Manson Tribute - String Tribute To Marilyn Manson
Marley's Ghost - Jubilee
Mastodon Tribute - String Tribute To Mastodon
Mclean, Don - Addicted To Black
Meshuggah Tribute - String Tribute To Meshuggah
Ministry - The Very Best Of Fixes & Remixes
Morglbl - Brutal Romance
Mount Everest Trio - Waves From Albert Ayler (1975/77)
Mr. Capone-E - Love Jams Volume 2
Mynabirds, The - Generals
N-Coded Music - Jazz Party Boxset
Neckam, Maria - Unison
Neil Young & Crazy Horse - Americana
Nelson, Ricky - Hello Mary Lou
Newton, Juice - Come To Me/Well Kept Secret/Take Heart
Night - Long Distance
Offending - Age Of Perversion
Pa's Fiddle: Ch - Various
Phobia - Remnants Of Filth
Pomegranates - Heaven
Prajna - Amrita
Pseudogod - Deathwomb Catechesis
Pujol - United States Of Being
Redeemer - First Degree
Renegade Creation - Bullet
Rise To Remain - City Of Vultures
River City Exte - Don't Let The Sun Go
Rudd, Xavier - Spirit Bird
Sande, Emeli - Our Version Of Events
Sarcîfago - Decade Of Decay
Sarcîfago - Hate
Sarcîfago - Inri
Sarcîfago - Rotting
Sarcîfago - The Laws Of Scourge
Sarcîfago - The Worst/Crust
Sartain, Dan - Too Tough To Live
Seikaly, Rony - Nervous Nitelife: Rony Seikaly
Shawn Colvin - All Fall Down
Sheds, The - Self/Doubt
Silent Film, A - Sand & Snow
Simon, Paul - Graceland (25Th Anniversary Edition)
Skillet & Leroy - 2 Or 3 Times A Day
Smith, Patti - Banga
Smith, Patti - Banga (Special Edition)
Spectrum Road - Spectrum Road
Stanshall, Vivian - Men Opening Umbrellas Ahead
Stringer - Yatra
Sugarloaf - Sugarloaf/Spaceship Earth
Temper Trap, Th - The Temper Trap
Texas Tornados - Live From Austin Tx
The Jacka - The Sentence
The Shangri-Las, Bettye Lavette & More - Boys Can Be Mean
Thomas, B.J - The Complete Sceptor Singles
Thompson, Richa - Live From Austin Tx
Toothaches, The - O! Be Joyful
Tower And - How Long
Various - Kin: Songs By Mary Karr
Various - El Barrio- Latin Dis
Various Artists - 2012 Warped Tour Compilation
Vayenas, Nick - Nick Vayenas
Victorious Cast Feat. Victoria Justice - Victorious 2.0: More Music From The Hit
Wakeman, Rick - In The Nick Of Time
Wally - Valley Gardens
Wanrooy, Daniel - Slice Of Life
Warriors, The - Bolton Club 65
Whirr - Distressor
Winter, Johnny - Live Bootleg Series Volume 8 (
Winter's Verge - Beyond Vengeance
Wormed - Planisphaerium
Wormed - Quasineutrality
Write This Down - Lost Weekend
Xfactor1 - Famous.Last.Words.
Zaz - Zaz