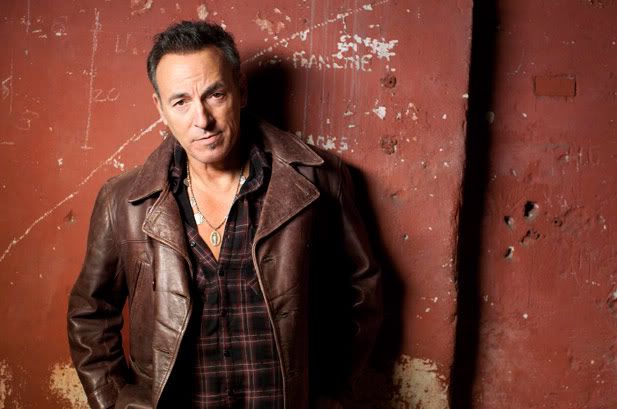 Let's get this out of the way right from the start: if you're a fan of anyone other than Bruce Springsteen & The E Street Band, you might want to skip a couple paragraphs because that's the release of the week and we're going to spend a little time talking about it before we skim the rest of the list and see what else might be coming out this sixth day of March.
That's right, kids, it's BossTime. Springsteen is releasing Wrecking Ball in a standard and deluxe edition, the difference being two bonus tracks. I'm not going to rehash my review of the album which I hope you'll all take a moment to read but it's worth mentioning in this New Music Tuesday column that Bruce has called some audibles on this record and is working with some different sounds and styles musically and some familiar terrain lyrically. I'm going to be interested in the reactions this record gets from all corners. Now that I've written my review, I'll probably go check some others out and see what everyone else is saying.
My co-pilot and co-conspirator 11 is going to love the title of indie man Todd Snider's new record: Agnostic Hymns & Stoner Fables. We both think we know who the subject of that record could be or could have written an album with a title such as this.
Another indie favorite, The Magnetic Fields, have a new record for you today called Love at the Bottom of the Sea. I find Magnetic Fields fascinating, offputting, insulated, and a curious listening experience. Yeah, I like them.
British sensations The Kaiser Chiefs continue to predict riots but you can Start The Revolution Without Me, as they say. Who says? Your Kaiser Chiefs.
Bluesman Lance Lopez has his new CD Handmade Music out today and our good friends at AmericanBluesScene are really, really excited about him, so I'm urging blues listeners 'round the world to give this one a shake and a listen.
Those are the albums that are speaking to me today. Which albums are you checking out? If you find one you love, we'd love to have you write with us and tell the world about the good, the bad, the ugly, absurd, outrageous, and outstanding records you're listening to. The BlindedBySound familia is always looking for more talented music obsessives, so come on board!
Ackerman, Nadia - The Ocean Master
Alberto Tafuri, Mauro Negri, E - Jimmy 2 Time
Alias Eye - In-Between
Anders Jormin - Ad Lucem
Andy Sheppard - Trio Libero
Area - Where I Am Now
Balkan Beat Box - Give
Bill Frisell & Floratone - Floratone II
Bird, Andrew - Break It Yourself
Bird, Andrew - Break It Yourself (D
Blackshire - 3d Experience
Blues Traveler - *25 / [2 Cd]*
Bowerbirds - The Clearing
Buckethead - Bucketheadland 2
Byrd - Icon
Byul.Org - Secret Stories Heard From A Girl In An Opium Den
Captain Beefheart & The Magic Band - Nan Trues Hole Tapes Volume 3
Castle, Jennifer - Castlemusic
Centric Jones - The Antikythera Method
Ceremony - Zoo
Chenaux, Eric - Guitar & Voice
Clannad - The Essential Clannad
Cobra Strike - The 13th Scroll
Cobra Strike - 2
Conn, Bobby - Macaroni
Cox, Carl - All Roads Lead To The Dancefloor
Dance Hall Pimps - Beast For Love
Davis - *At His Best / [Expanded Edition]*
Dean Martin - Icon
Destroy All Monsters - Hungry For Death Book/Cd Limited Edition
Diabulus In Musica - The Wanderer
Diana Ross - Icon
Dimension Act - Manifestation Of Progress
Dropsteppers - Get Up In It!
Dunes - Noctiluca
Elfin Saddle - Devastates
Emil Bulls - The Black Path (Bonus Tracks)
Emil Bulls - Phoenix (Bonus Tracks)
Every Time I Die - Ex Lives
Fall Out Boy - Icon
Finney, A.J. - My Brain Don't Work No Good
Fireflight - Now
Fite, Tim - Ain T Ain T Ain T
Fleetwood Mac - Go Your Own Way: Live 1977
Gary Allan - Icon
Gekko Projekt - Electric Forest
Good Old War - Come Back As Rain
Hadwynn - Monuments
Heidevolk - Batavi
Holter, Julia - Ekstasis
Human Nature - The Motown Record
Idina Menzel - Live Barefoot At The Symphony
Jin Akanishi - Japonicana
Joyride - Are You Fer It
Kaiser Chiefs - Start The Revolution Without Me
La Paz - Granite
Lindsay, Mark - The Complete Columbia Singles
London Studio Orchestra - *The Fabulous Film Themes / [3 Cd Box Set]*
Lopez, Jennifer - The Lowdown
Magnetic Fields, The - Love At The Bottom Of The Sea
Margolin, Bob With Mike Sponza Band - Blues Around The World
Matuchniak, Peter - Uncover Me
Mayhem - Grand Declaration Of War
Megalith - Risen From The Grave
Men, The - Open Your Heart
Michael Jackson - Icon
Minardi, Ricci, Cazzola, Mangi - Ballads
Miniature Tigers - Mia Pharaoh
Mona - Mona
Neal Mccoy - Xii
Nelson, Rick - The Complete Epic Recordings
New Age Steppers, The - Love Forever
New Riders Of The Purple Sage - 17 Pine Avenue
Nirvana - The Lowdown
Nite Jewel - One Second Of Love
Now Now - Threads
Original Motion Picture Soundtrack - The Flowers Of War
Pharaoh - Bury The Light
Pond - Beard, Wives, Denim
Rocco Deluca - Drugs N' Hymns
Rotzkotz - Much Funny
Scud Mountain Boys - The Early Year
Secret Music - Secret Music
Snider, Todd - Agnostic Hymns & Sto
Songs 4 Worship - Revelation Songs: Today's Most Powerful Worship Anthems
Soundtrack - John Carter (Michael Giacchino)
Soundtrack - The Lorax (John Powell)
Springsteen, Bruce - Wrecking Ball
The Alchemist - *Rapper's Best Friend 2 / [Explicit]*
The Demolition String Band Feat. Elena Skye & Boo Reiners - Gracious Days
Transformer - Soundtrack
Various - Masters Of Hardstyle Vol. 6
Various - Let's Hear It For The 80s Vol. 6
Various - Roots Of Drone
Various - Beat Generation Jazz
Various - Spirit Of Sireena Vol. 6
Various Artists - Rainer Ptacek Tribute: The Inner Flame
Various Artists - Johnny D Presents Disco Jamms Vol. 1
Various Artists - Icon: Motown Classics
Various Artists - *Icon: Motown Classics / [2 Cd]*
Velghe, John - Don't Let Me Stay
Wexler, Mike - Dispossession
White Rabbits - Milk Famous
Xandria - Neverworld S End
Xiu Xiu - Always
Yellow Ostrich - Strange Land