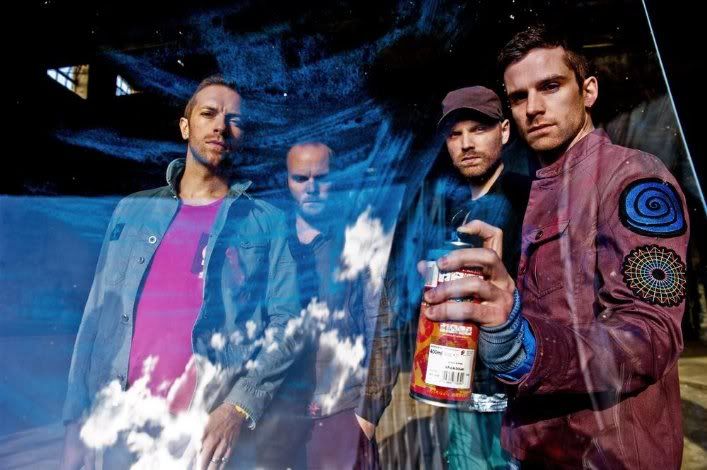 I don't if I've ever seen a New Music Tuesday where 1/2 the releases were put on sale on Monday, but that seems to be the case this week and I'm sure there's a good reason for it. My suspicion is the Grammy cutoff deadline, which is often around this time, and would explain why high profile acts like Coldplay and Kelly Clarkson didn't wait for today. That said, we're still calling it New Music Tuesday and there are a lot of titles worth considering this week.
Let's begin with the latest from Coldplay, Mylo Xyloto. I picked up my copy yesterday but haven't gotten to listen to it. I've carved out time later in the day for that. Our newest contributor 11 has listened to it twice and he's been politely commanded to share his thoughts on the record directly. We may both weigh in on this one. I'm looking forward to hearing beyond the two singles released prior to the album's Monday release.
Kelly Clarkson has also released two singles in advance of Stronger and Heather has reviewed them both. She liked the second ("What Doesn't Kill You") a lot more than the first ("Mr. Know It All") and now she's reviewed the album in its entirety.
Let's talk about my presents, one from TheWifeToWhomI'mMarried and one from... ME. I got a late birthday/anniversary gift yesterday, not because my wife doesn't know when either of those events are but because what I wanted most didn't street until yesterday: the reason I'm not listening to Coldplay right now is because I'm listening to the Super Deluxe 20th Anniversary Edition of Nirvana's Nevermind (What do you say we stop talking about the album's age? Can I get an amen on that). It's beautifully packaged and brimming with b-sides, rarities, and other goodies. I'm very pleased with it; it was worth the wait. Thank you, TheWifeToWhomI'mMarried.
My present from me to me? How about Smokestack Lightning: The Complete Chess Masters 1951-1960 the late, great Howlin' Wolf? Do you think that might be any good? This now trumps the first three discs of my Howlin' Wolf Chess Box Set, covering the sides Wolf cut for Sam Phillips in Memphis that were later licensed to Chess Records all the way through his classic "Spoonful." The (I hope and pray) inevitable second volume will pick up with "Goin' Down Slow" and take us through to the end of his Chess tenure.
In the blues, roots, singer/songwriter department, we have new releases from John Prine, Fiona Boyes, and Popa Chubby.
Those are some of the highlights that I'm seeing. What are you down for this New Music Monday/Tuesday?

1985 Concert Cast Recording - Follies In Concert
A Loss For Words - No Sanctuary
Ahluwalia, Kira - Aam Zameen: Common G
Aiden - Some Kind Of Hate
Andy Timmons B - Plays Sgt. Pepper
Arnold's Blues Revival, Mac - Live At The Grey Eagle
Ashtar Command - American Sunshine
Autograph - The Anthology
Bahimiron - Rebel Hymns Of Left Handed Terror
Banner Pilot - Heart Beats Pacific
Bare, Bobby - Cowboys And Daddys / Me And Mcdill (2-For-1)
Beets, The - Let The Poison Out
Berry, Chuck & Diddley, Bo - Big Box Of Berry N' Bo
Bevis Frond - The Leaving Of London
Bill Wyman's Rhythm Kings - Collectors Edition 5-Cd Box Set
Black Tusk - Set The Dial
Blue Angel Lounge, The - The Blue Angel Lounge
Blue Monk - Enlightened Love
Blues Project - Projections
Boyes, Fiona - Blues For Hard Times
Brand New Sin - United State
Brandt Brauer - Mr. Machine
Brian Wilson - In The Key Of Disney
Cameras - In Your Room
Carnifex - Until I Feel Nothing
Casey Donahew B - Double-Wide Dream
Chanticleer - Our Favorite Carols
Charles, Ray - The Complete Recordings 1946-1952
Chrome - 3rd From The Sun
Chrome - Half Machine Lip Moves
Chubby, Popa - Back To New York Cit
Cinque - Catch A Corner
Clarkson, Kelly - Stronger
Clarkson, Kelly Tribute - Piano Tribute To Kelly Clarkson
Close Your Eyes - Empty Hands And Heav
Coldplay - Mylo Xyloto
Coldplay Tribute - Piano Tribute To Coldplay
Coma Divine - Dead End Circle
Come As You - Come As You Are: A 2
Comet Gain - Howl Of The Lonely Crowd
Counterparts - The Current Will Car
Craft - Void
Crowell, Rodney - But What Will The Neighbors Think?
Dan Tayler (Counter Tenor); Tafelmusik; Jeanne Lamon - Bach: Cantatas Bwv 54 & 170; Concerto Bwv; Orchestral Suites No. 2
Danava - Hemisphere Of Shadows
Dance Mix 2 - Dance Mix Usa Volume
Dead To Me - Moscow Penny Ante
Death - Individual Thought P
Deer Tick - Divine Providence
Devil Makes Three, The - Stomp And Smash
Diana Ross & The Supremes - 50th Anniversary: The Singles Collection 1961-1969 / [3 Cd]
Die Funkhausgruppe - Mono-Poly
Dirty Projectors + Bjork - Mount Wittenberg Orca
Dj Cam - Seven
Dntel - Life Is Full Of Possibilities
Dolby, Thomas - A Map Of The Floating City
Dolby, Thomas - A Map Of The Floatin City (Deluxe)
Druids Of Stonehenge - Creation
Dub Trio - Iv
Dwyer Orchestra Featuring Mark - Changing Seasons
East Of The Wal - The Apologist
El Rego - El Rego
Electric Light Orchestra - The Essential Electric Light Orchestra
Elves, The - And Before Elf
Emmanuel, Tommy - All I Want For Chris
Fac. Dance - Various
Falco, Tav & The Unapproachable Panther Burns - Conjurations
Fever Tree - Fever Tree
Flogging Molly - Speed Of Darkness-De
Florentine - Cringe 'N' Purge
Giant Squid - Cenotes
Gillan, Ian - Live In Anaheim
Glyder - Backroads To Byzantium
Go Radio - Lucky Street (Deluxe
Goapele - Break Of Dawn
Goreaphobia - Apocalyptic Necroman
Gravehill - When All Roads Lead
Green, The - Ways & Means
Gregory Isaacs - The Ruler: Reggae Anthology / [2 Cd/Dvd Combo]
Haken - Visions
Halcyon Way - Indoctrination
Hammers Of Misf - 17th Street
Hammock - Asleep In The Downlights
Hired Hand - Hired Hand
Honeyhoney - Billy Jack
Howe, Mike - Island Of Anywhere
Howlin' Wolf - Smokestack Lightning /Complete Chess Masters (1951 To 1960) / [4 Cd]
Human Switchboard - Who S Landing In My Hangar? An
Illdisposed - There Is Light (But It's Not For Me)
Isole - Born From Shadows
Jc Brooks And The Uptown Sound - Want More
Jewell - My Blood My Sweat And My Tears The Soundtrack
John Rutter - The Colors Of Christmas
Junius - Reports From The Thr
Justice - Audio, Video, Disco.
Kelly, Paul - Songs From The South
Kid Savant - Drop It On The Stere
Kirkland, Eddie - Pick Up The Pieces
Knight Area - Nine Paths
Lee Greenwood - Icon
Leo, Fabrizio - Mr Malusardi
Lights Resolve - Feel You Re Different
Llanas, Sam - 4 A.M.
Londra, Michael - Beyond Celtic
Lonely Kamel - Dust Devil
Lonely Kamel - Lonely Kamel
Lynn, Loretta - Your Squaw Is On The Warpath / Fist City (2-For-1)
Mamas & Papas - If You Can Believe Your Eyes & Ears
Manilla Road - Playground Of The Da
Mercy Screams - Broken Mirrors
Miasmal - Miasmal
Michael Bublé - Christmas
Michael Feinstein - The Sinatra Project, Vol. Ii: The Good Life
Monica Tribute - Smooth Jazz Tribute To Monica
Moore, Russell & Iiird Tyme Out - Prime Tyme
Morton Feldman: Orchestra - Deutsches Symphonie-Orchester Berlin; Brad Lubman, Conductor
Mpire Of Evil - Creatures Of The Black
Mr. Capone-E & Mr. Criminal Presents - Hipowermusic.Com Videos
Mr. Death - Descending Through A
Mr. Scruff - Ninja Tune (With Bonus Disc)
Ms. Lady Pinks Presents - Voices Of Chicano Rap 2
Mumford & Sons - Sigh No More - Delux
Murphey, Michael Martin - America's Horses
Nate Dogg - Nate Dogg G Funk Classics Vol 1 / [Explicit]
Nate Dogg - Nate Dogg G Funk Classics Vol 2 / [Explicit]
Necrodeath - Idiosyncrasy
Nile - Worship The Animal
Nile, Willie - The Innocent Ones
Nine Below Zero - Live In Europe 1992
Nirvana - Nevermind / [4cd/Dvd Super Deluxe Box Set]
Noctem - Oblivion
O Halloran, Dustin - Music From The Motion Picture
Once, The - Row Upon Row Of The People They Know
Original Broadway Cast - Footloose - The Musical
Owens, Buck & Susan Raye - Merry Christmas From Buck And Susan
Owens, Richie & Farm Bureau, The - In Farm We Trust
Ozric Tentacles - Paper Monkeys
Palo Que Sea - Ritmo De Corazon
Patty Loveless - Icon
Peggy Sue - Acrobats
Phantazm - Morbid Existence
Phantogram - Nightlife
Piney Gir - Geronimo!
Pink Floyd Tribute - Smooth Jazz Tribute To Pink Floyd
Prine, John - The Singing Mailman Delivers
Proh Mic - Rhythm For Days
Prurient - Time's Arrow
Pulser - The Space Between The Stars
Putumayo Presents - Celtic Christmas
Quicksilver Messenger Service - Live From The Summer Of Love
Reigns - The Widow Blades
Revelations, The - Concrete Blues
Robert Davi - Davi Sings Sinatra: On The Road To Romance
Roots Manuva - 4everevolution
Rory Gallagher - Notes From San Francisco / [3 Lp]
Rossdale, Gavin - Wanderlust
Ruslan Sirota - Ruslan
Russian Circles - Empros
Sammy Kershaw - Icon
Schechter, Basya - Songs Of Wonder
Scott Weiland - The Most Wonderful Time Of The Year
Scuba - Dj-Kicks
She And Him - A Very She & Him Christmas
Siegal, Ian & The Youngest Sons - The Skinny
Simon, Paul - Graceland (2011 Remaster)
Simon, Paul - Hearts And Bones
Simon, Paul - One Trick Pony
Simon, Paul - Songwriter
Simon, Paul - The Rhythm Of The Saints
Skinny Puppy - Handover
Sly, Tony - Sad Bear
Snowgoons - Reef The Lost Cause: Your Favorite Mc
Solar Fake - Frontiers
Soundtrack - Johnny English Reborn (Ilan Eshkeri)
Stan, Alexandra - Saxobeat
Star Fucking Hi - From The Dumpster To
Statik Selektah - Population Control
Statman, Andy - Old Brooklyn
Stormwarrior - Heathen Warrior
Strange Boys, The - Live Music
Strawberry Alarm Clock - Incense & Peppermints
Structures - Divided By
Sunnie Paxson - Bohemian Sun
Supreme Pain - Divine Incarnation
Svarttjern - Towards The Ultimate
Tender - Tender Mercies
The Jacka - The Indictment / The Verdict / The Sentence Special Deluxe Edition
The Jacka - The Verdict
The Temptations - 50th Anniversary: The Singles Collection 1961-1971 / [3 Cd]
Thrall - Vermin To The Earth
Toby Keith - Clancy's Tavern
Toby Keith - Clancy's Tavern / [Deluxe Edition]
Transatlantic - More Is Never Enough
Transfer - Future Selves
Trapt - Headstrong
Tritt, Travis - Ten Feet Tall And Bulletproof
Ukulele Christmas - Ukulele Christmas
Undead Creep - The Ever-Burning Tor
Usf - The Spray
Vangough - Kingdom Of Ruin
Various - Night Of The Demons
Various - Boddie Recording Company: Cleveland, Ohio
Various - Jazz Guitars Meet Hendrix
Various - Phil Spector Presents The Phillies Album Collection
Various - The Essential Phil Spector
Various Artists - The Bridge School Concerts 25th Anniversary Edition (2cd)
Various Artists - Rough Guide To Cajun & Zydeco
Veras, Joe - Maestro
Vince Gill - Guitar Slinger
Vince Gill - Guitar Slinger / [Deluxe Edition]
Visions Of Atlantis - Maria Magdalena
Vnv Nation - Automatic
Volumes - The Concept Of Dream
Waits, Tom - Bad As Me
Waits, Tom - Bad As Me (Deluxe Version)
Ward, Greg - Greg Ward S Phonic Juggernaut
Waters, Kim - This Heart Of Mine
We The - Believer
West, Leslie - Unusual Suspects
Wizard - ...Of Wariwulfs And Bluotvarwes
Yes - 9012live-The Solos/Expanded (O
Zakarya - Greatest Hits