Bit of a down week on the New Releases this week, which comes at a good time considering how completely skint I am at the moment and can't afford a big week of musical purchases.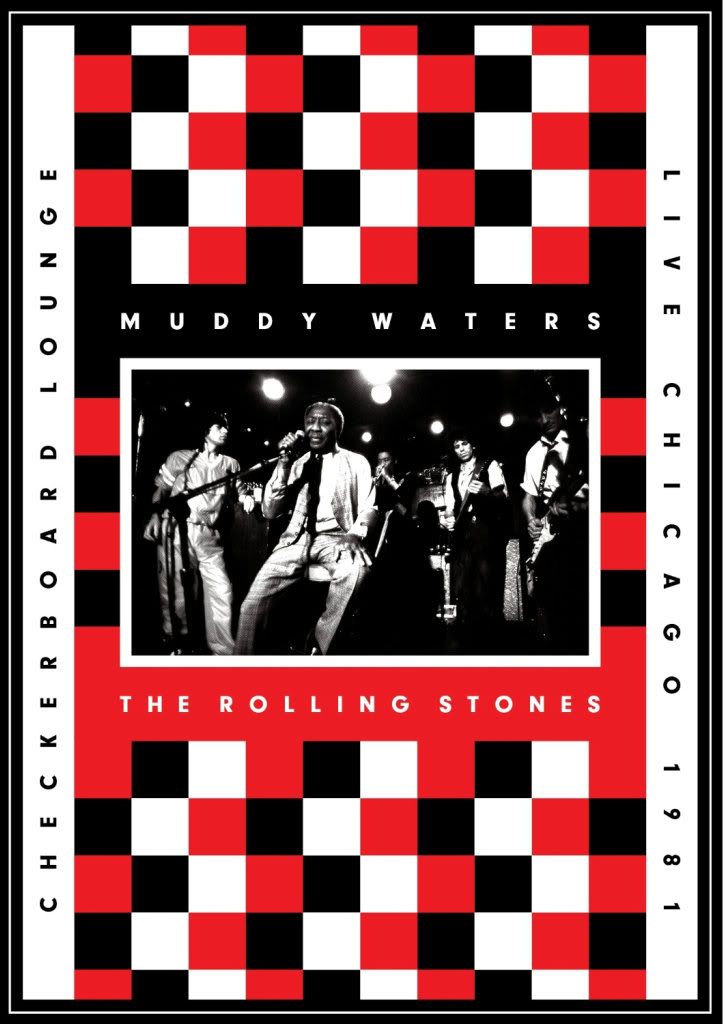 The title I'm most excited about is the release of a live show Muddy Waters and The Rolling Stones did in Chicago at the famed Checkerboard Lounge in 1981. Muddy was near the end of his life but was having a resurgence thanks to three great records cut with Johnny Winter, Bob Margolin, Pinetop Perkins, Willie "Big Eyes" Smith, among others. This wasn't the most fertile period for The Stones, either, but seeing "The Greatest Band On Earth" perform with the man who named them is something that excites me. I'll have one of these, thanks.
What else have we this week? The Dirty Projectors' Swing Lo Magellan. The indie kids are excited about this one; I don't know much about them. I'll put this on my "to check out" pile and hope one of our other brilliant writers plans to review this one. If not, maybe I'll weigh in (it's beneath about 200 other reviews I still have to finish).
What else? Your Zac Brown Band has a new record this week. Don't do the ZBB thing myself but they are Uncaged this week. We have another round of Hendrix re-issues that really aren't because it's just the Hendrix estate cashing in by changing labels without upgrading or updating the music. We've also got the latest from Serj Tankian, who is nothing if not prolific. Harakiri is the name of his latest.
I'm not seeing much else. I'm gonna have to snag a copy of Muddy and The Stones. What's on your agenda this week?

Aesop Rock - Skelethon
Alice Cooper - Welcome To My Nightmare
Beak - Beak II
Calibro 35 - Any Resemblance To Real Persons Or Actual Facts Is Purely Co
Chaosweaver - Enter The Realm Of The Doppelg
Chatham County Line - Sight & Sound
Clare And The Reasons - Kr-51
Colossal Gospel - Circles
Crosby, Stills & Nash - Daylight Again
Dead Rat Orchestra - Guga Hunters Of Ness
Debo Band - Debo Band
Deep Time - Deep Time
Delicate Steve - Positive Force
Digitalism - Dj-Kicks
Dirty Projectors - Swing Lo Magellan
Dogs D'amour, The - A Graveyard Of Empty Bottles Mmxii
Duran Duran - A Diamond In The Mind
Dusted - Total Dust
Dusty Springfield - Dusty In Memphis
Early November, The - In Currents
English Beat, The - The Complete Beat
English Beat, The - Keep The Beat: The Very Best Of The English Beat
Family Of The Year - Loma Vista
Garside, Melanie - Fossil
Glass Cloud - The Royal Thousand
Guthrie, Woody - Woody At 100: The Woody Guthri
Hank Williams, Jr. - Old School New Rules
Hendrix, Jimi - Jimi Plays Berkeley (Superjewel)
Holograms - Holograms
House Of Heroes - Cold Hard Want
Husky - Forever So
J. Stalin - Memoirs Of A Curb Server / [Explicit]
James, Brendan - Hope In Transition
Jerry Lee Lewis - Sun Recordings: Greatest Hits
Jimi Hendrix Experience, The - Jimi Hendrix Experience Live At Berkeley
Johnny Cash - Sun Recordings: Greatest Hits
Jones, Jamie - Tracks From The Crypt
Kusworth, Dave - The Bounty Hunters
Louis Prima Jr. - Return Of The Wildest
Mandell, Eleni - I Can See The Future
Marina And The Diamonds - Electra Heart
Mel Torme - Pure Velvet
Mission Of Burma - Unsound
Mitchell, Elizabeth - Little Seed: Songs For Childre
Monster Truck - The Brown Ep
Mortillery - Murder Death Kill
Orwells, The - Remember When
Otros Aires - New Sound Of Tango
P.O.D - Murdered Love
Pavone, Rita - The International Teen-Age Sensation
Randy Kaplan - Mr. Diddie Wah Diddie
Serj Tankian - Harakiri
Soundtrack - Ice Age: Continental Drift (John Powell)
Staind - Live From Mohegan Sun
Tanga, Bibi And The Selenites - 40 Degrees Of Sunshine
The Archives - The Archives
The Doors - Waiting For The Sun
Theclosing - Theclosing
Thick As Blood - Living Proof
Traxamillion - My Radio / [Explicit]
Twin Shadow - Confess
Various Artists - To Rome With Love (Original Motion Pictu
Various Artists - This Ain't Chicago
Various Artists - Future Disco Presents Poolside Sounds
Vintersorg - Orkan
Windle, Jon - Sober Minds
Yuro, Timi - The Complete Liberty Singles
Zac Brown Band - Uncaged